Back in November and December of 2019, before the viral apocalypse ravaged global supply chains and sent us all indoors, I redid my entire wardrobe. I threw out some 90 percent of the clothes I'd been wearing, and I started over from scratch with a smaller, more focused wardrobe centered on the following goal: to make everything I wear, all the time, everywhere, fully bug-out ready. 
In other words, the idea was to not have "bug-out clothes" or a "SHTF wardrobe" that I'd change into if disaster struck. Rather, I wanted to dress so that at any given moment, what I have on is exactly what I'd wear in a full-blown bug-out. Oh, and I wanted to do all this without looking like I shop at REI, Bass Pro Shops, or some tactical/police outfitter.
For weeks when I was working on our massive tarp review, I was trapped in a super deep materials and coatings rabbit hole.  That work made it clear to me that my SHTF wardrobe goal was possible. In the course of my work on this review, I discovered a group of emerging, smaller brands whose whole selling point is that they work with the latest and greatest materials. In buying strategically from these brands, I could build myself a long-term use wardrobe that would look to most people like regular-guy streetwear. Secretly, though, I'd be able to live in these clothes for months on end in the most punishing outdoor conditions.
In the course of this "Dress like a prepper" series, I'll introduce you to some of the brands I've found, mainly by way of a focus on different types of materials and fabrics. The first installment covers wool/nylon blends, which are amazing for tops and layers.
Note: All of the clothes I'll be talking about in the initial posts are men's clothes. Once I've worked my way through the posts I have in the pipeline, I'd love to run some entries in this series for women. So get in touch if you have ideas or suggestions, or want to take a crack at contributing a post yourself.
Why wool and nylon go together
In a previous post on prepper clothing, I did a deep dive into the main problem with modern synthetic fabrics: fire. Loose embers from a campfire can pinhole an expensive piece of clothing or camping gear that's made from a fabric like nylon, polyester, or Dyneema.
Many traditional fabrics hold up quite well to fire, especially wool. When wool is exposed to fire, it's hard to get it to burn (especially if it has absorbed a lot of moisture, from the environment or from your body). When wool does burn, it turns immediately to harmless ash.
In addition to its general fire resistance, wool has the following desirable properties:
It's antimicrobial, so it doesn't mold, mildew, or get smelly easily.
It continues to trap heat, even when it's wet, so that wet wool will still keep you warm (unlike wet cotton, which will kill you).
It naturally sheds water, though it will absorb it if soaked.
Depending on the type and blend, it can be relatively strong for the weight.
It resists wrinkles, so wool clothes require little maintenance to look good.
All of these attributes are why traditional wool is still popular for the outdoors.
Wool does have some downsides, though. It itches some people so they can't take it against their skin. Merino wool can also have durability problems. If the knit is sufficiently fine it will pill and degrade when washed too many times.
One of the ways to address wool's downsides, especially durability, is to blend it with nylon fibers. The nylon fibers contribute strength and abrasion resistance to the resulting fabric, and while they do compromise its flame resistance I think that's a good trade for regular day-to-day wear.
In the past seven months or so, I have actively sought out and worn a number of wool/nylon garments. I've worn these in the +100F summer heat and in the sub-0F winter snow, and I'm pleased to report that I am totally sold on this family of fabrics.
In the rest of this article, I'll give a brief overview of three brands that sell four-season garments that I'm extremely pleased with, and have bought the heck out of.
A word of warning: all of these products are relatively expensive. But they are all very, very good. Buy once, cry once. Just one of these garments will last you so much longer than an equivalently-priced collection of much cheaper garments from the large clothing retailers.
Note: Every product I discuss was bought with my own personal money.
Wool & Prince t-shirts
Wool & Prince is a retailer that was founded by one of the Pendleton family members. The brand specializes in modern workwear and casual wear, all made of fine wool and wool blends.
One of the company's signature products is an 78% merino wool/22% nylon T-shirt that has a kind of cult following on some Reddit clothing subs dedicated to travel and menswear. These "78/22" shirts are made in South Korea, and shipped to the US. (Yep, this brand has had supply chain problems. I waited months for their shirts to re-stock so I could pick up extras for summer.)
I originally bought one of these T-shirts (black crewneck), just to try it out. Then I wore it every day for a week without washing it. My wife was in shock. It did not smell, and it also did not wrinkle. Every day I put it on, it looked and felt fantastic.
This was back in November, so I wasn't exactly sweating a lot. However, I've since bought many more of these shirts in different colors, and I wear them daily in the Texas summer heat. While they will pick up an odor eventually if you sweat like a beast in them, it takes a few days. Usually, if they start to smell you can just air them out for a day or two and put them right back on without washing.
At $68, these shirts are not cheap. But they're one of the best clothing investments I've ever made. I've built up a batch of about ten of these over the course of the past seven months, and I honestly can't tell which ones I bought earlier and which ones are newer. This, despite wearing one of these shirts most days of the weekday.
I also have some of their long-sleeve T-shirts and Henley T-shirts, based on the same "78/22" wool/nylon blend fabric and fit. I spent most of last winter in these, using them as base layers when I was in the Colorado snow and directly under a jacket in the milder Texas climate.
At some point, probably as winter approaches, I'm going to branch out and try some of their button-down long-sleeved shirts. The long-sleeved shirts are 100% merino wool, though, so they won't be quite as durable as the wool/nylon blends. This was probably done because such shirts are meant to be worn and washed far less often than a T-shirt. But I really do wish they'd offer some long-sleeved shirts in that same 78/22 blend.
I wash these shirts on cold and air dry them. They dry quickly and don't shrink.
Pros:
Extremely odor- and wrinkle-resistant, so can be washed infrequently
Durable and doesn't pill
Comfortable next to the skin, with no itching
Wears well in both summer and winter
Cons:
Price
Sometimes a size will sell out & restocks take forever
SWRVE Combat Cordura Capsule shirt
I concealed carry a small SIG P365XL, and I like to carry in an outside-waistband (OWB) holster when and where I can. But that requires me to wear a jacket or unbuttoned long-sleeved shirt over my T-shirt, with means OWB carry is typically a fall and winter thing.
At some point, I started digging around the web for a wool/nylon blend long-sleeved shirt that I could throw on and wear even in the summer. I eventually found the Cordura Combat Wool Capsule Collection from SWRVE, a maker of clothes for cyclists.
I ordered the long-sleeve green shirt in the collection (size L), and am pleased to report that it's high-quality, comfortable, and well made. At $150, it's the price of a nice Men's dress shirt from a place like Nordstrom. But as a stealth prep that I can wear in regular settings, it feels like a winner so far.
All the seams on the shirt are triple-stitched, which contributes to the shirt's general vibe of "overbuilt."
The material used for the shirt is 49% wool, 48% nylon, 3% spandex, so it maximizes abrasion resistance and stretch, which is good if you're cycling in this and wipe out.
The fabric is heavier than a linen or other summer fabric, so it's not exactly the most Texas-heat-friendly shirt in my wardrobe. But it's by no means unbearable, and I can definitely tell that this shirt will take a beating. There is a tiny bit of that wool "itch" to it, though, so if that bothers you then isn't your shirt.
There are two pockets on the front, one of which has a slot for a pen to go into it. The buttons are hefty and sewed on tightly.
The fit is good if a tiny bit small on me. I'm a bigger guy, so shirts made for tiny little cyclist hipster dudes are a bit of a stretch for me. If I button this, the chest is a tad tighter than is optimal, but I'm planning to wear it unbuttoned most of the time so that's not a big deal. The major upside of the smaller fit is that if I wear it unbuttoned and untucked, it does not billow out and look huge — it still looks pretty tight, while also concealing my OWB holster well enough. I do wish they offered at least one larger fit option, though.
The SWRVE garments are not all made in the US, but all of the factories used are certified by the WRAP certification program as being responsible and sustainable.
There is one flaw in the fabric on mine. I'm pretty sure it came this way, which is not awesome for a $150 shirt. But there is a slight chance that I did this to it somehow, even though I've only worn it a few times and have not washed it. So I can't really ding SWRVE for it. I actually didn't notice this flaw until I was going over the shirt with a fine-tooth comb for this review. Now that I've discovered it, I may or may not try to score a replacement.
The styling on the shirt is a bit hipster-old-school and isn't quite what I normally wear. But it's not so pronounced that it doesn't work on me. I'd really like something a little more conventionally styled with this same material and overbuilt vibe, but I like this well enough that it mostly scratches the itch it's meant to scratch.
I also am not in love with the ripstop grid on the Cordura Combat Wool material. It edges a little too far into "tactical" for me, but the aforementioned hipster styling yanks it back hard enough in the other direction that its overall effect isn't the least bit "tactical."
The main knock I have on this shirt apart from price (and that flaw I'm pretty sure I'm not responsible for) is the limited selection of color and size combinations. I really wanted the blue, but I settled for the green because that's all I could get in a large. And believe me, I waited weeks for the blue to come back in stock before giving in.
I also wish they offered a few other color options, like black and/or phantom gray. But my research has turned up that Cordura Combat Wool is quite expensive by the yard so that no doubt limits the color options because they're trying to control cost and risk.
Pros:
Overbuilt stitching and quality
Cordura Combat Wool is a great prepper clothing material
Not as hot as you'd think in the summer heat
Definitely feels like a shirt I could live in for an extended period of time
Cons:
Price
Limited availability of size and colors
Limited availability of fits
I'm just not a fan of the rip-stop grid
FITS Tactical Boot Socks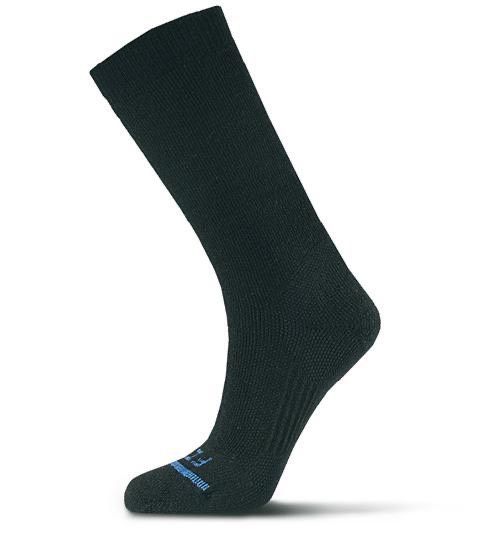 Our staff has spent some time and money looking into socks for prepping, and the conclusion we've come to so far is that Darn Tough Socks really are as good as advertised. They're durable, odor-resistant, and comfortable. Plus they're made in the USA. If we published a big sock review right now, Darn Tough would probably be our main pick.
I own a few pairs of Darn Tough socks, and I really like them. I also own some wool socks from Wool & Prince (they shipped for free with one of my orders). But I'm that guy who's always looking for the upgrade, so I went down a socks rabbit hole and came across a ton of love for FITS socks on Reddit and other forums. Now, all this love could've been astroturfed by a clever marketing agency. But I did some diligence and it looked legit enough that I took the plunge and ordered four pairs to try out.
The FITS pitch is simple: the inside of the socks is soft, 100% merino wool, but the outside weave of the socks is made using a tough wool/nylon blend. The end result is the comfort of Merino next to your skin with the toughness of nylon next to your shoes. So unlike the Darn Tough socks, which are a uniform wool/nylon/spandex blend throughout, the FITS change it up by putting most of the synthetic fibers on the outside.
FITS are also made in the USA and are Berry Amendment Compliant, so that's a big plus in my book.
I went with the tactical boot socks because I mainly wear boots of some kind — I was wearing Red Wing Iron Rangers, but I've since upgraded to some White's Bounty Hunters. If I'm not wearing lace-up boots, then I'm wearing cowboy boots or biker boots. Basically I'm all boots, all the time.
My verdict is that so far, about seven months into wearing them, the socks are great. I don't have as many miles on them as I'd like for a full evaluation, but I have abandoned all of my other boot socks and I've worn one of my four pairs of FITS every time I've put boots on since I got them.
The full-cushion design is quite comfortable and has held up well. I've not had any problems with overstretching or loss of elasticity. (They seem to ship a bit small, probably on the expectation that they'll stretch a bit to fit your foot, which mine did.)
The seams in these are exceptionally well hidden. I've yet to feel a seam in mine.
I've worn them in winter cold and summer heat, and they regulate temperature very well. I've also had no odor issues, and they'll stand up to multiple wears without washing (though I typically don't do that).
I recently ordered a new batch of these same socks, now that I've decided to standardize on them. You can see from the photo above the earlier pair in comparison to the new, unworn pair. In general, I'd say these have held up really well to extended wear and repeated washing — especially for a wool product.
At $24 per pair, vs. $26 per pair for the closest Darn Tough competitor, you do save a little. But you're more likely to find Darn Toughs on sale at various larger retail outlets, so my guess is if you go with FITS you'll end up paying more on average.
I just went ahead and got another batch of these, because at this point I'm confident enough in them that I'm ready to invest in them and see how they perform over the next few years. I can always go back to Darn Tough if these wear out.
Pros:
Comfortable
High-quality, durable
No seams
Priced competitively
Cons:
The bottom line
The clothes I've described here are not cheap. They're also from smaller batch makers, and even when the supply chain was fully functioning they were sometimes hard to get in the right size and color variants.
But these are the kinds of clothes you can buy and then count on for the long haul — which is exactly why they appeal to me as a prepper.
Nowadays, when for whatever reason I throw on a cotton shirt from an outlet like J.Crew or another mall brand, my immediate reaction is "what are these rags?!" I've really gotten used to the feel, performance, and odor-resistance of these wool/nylon blends, to the point that I can tell a pretty stark difference when I wear something else.
I also love that I have the option of dressing in a way that doesn't look even remotely "tactical", outdoorsy, or "preppery", and yet I can have confidence that these clothes will outperform most cotton-blend specialty outdoor wear in a bad situation.