This review focuses on bushcraft tarps that are appropriate for a bug out bag or other portable supplies. Being away from home during an emergency already means things are pretty bad, and since you'll be limited just to what you have on hand, packing the best tarp is important.
You may end up with a tent, hammock, or other shelter product in your go-bags, but they're almost always further down the list than a plain tarp. Looking at what the experts pack is always a great way to shortcut your learning — and when it comes to portable/minimalist emergency supplies, most experienced people carry a tarp instead of something heavier and less versatile (e.g. a tent), because when they're limited by space and weight they want to carry one product that can help in as many scenarios as possible.
Review: Best survival tent and sleeping bag
Tarps are primarily used for makeshift shelter. Other common uses while away from home include:
water collection
poncho
signaling
makeshift stretchers for carrying people or sleds for carrying gear
sealing off a small area so you can trap heat inside or block harmful contamination from the outside
makeshift boats and floatation devices
covering yourself to avoid detection while using a light
covering gear or caches while you're away
you can likely imagine more situations where a large piece of fabric with tie points is helpful
Emergency experts recommend keeping a tarp or three in your home supplies as well. You're just not as limited to picking the single "right" tarp, and can feel confident buying whatever middle-of-the-road options you find at stores like Home Depot or Walmart. For instance, Grizzly Tarps are a great home supply choice, and their products are widely available at retail in multiple sizes, weights, and colors.
Home supply tarps can also be made of alternative materials like Tyvek or vinyl, and can be bought in sizes larger than what's appropriate for your bags.
Since you're less likely to need a makeshift shelter within your own home, these (often larger) home tarps come in handy for covering holes in your house created by a storm, managing floodwater, clearing debris, covering hay or firewood, trapping heat if the power goes out during winter, sealing off a basement from fallout, protecting crops from an early snow, etc.
The important stuff:
While keeping overall portability in mind, it's best to err on the side of more durable and heavier materials rather than thinner and lighter options, because you'd rather carry a few extra ounces than suffer a product failure when you need it most.
Which means that, while ultralight tarps made from advanced materials like silnylon or Dyneema can play a role in your preps, going too thin and light (even when you can afford the premium) might not be worth it in a survival context.
Nylon is generally the best tarp fabric, but polyester can also work because it's strong in some places where nylon is weak (e.g. UV and stretch resistance).
Tarp coatings like silicone or polyurethane make a big difference in performance — but manufacturers don't always make it easy for casual shoppers to know what the coating is.
Sizes ranging from 8'x8' to 10'x12' tend to be the sweet spot for most people's portable emergency bags, because that's enough material to create nice shelters for 1-2 people (and their gear).
A basic square or rectangular shape is best because it's the most versatile. Tarps with extreme curves and other specialized designs can be great for backpacking and camping, but those shapes aren't worth the tradeoff in an emergency context.
Attachment loops that are securely sewn onto the tarp are better than grommet holes punched into the main fabric because they reduce the chance of tears.
Our Picks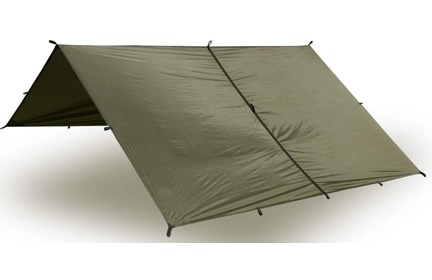 Better for nice climates:
Aqua Quest Safari
The Safari keeps its weight to barely over 1.5lbs despite its bombproof silicon and PU-coated nylon construction. Plenty of anchor points, and reinforced and sealed seams make this the perfect newb-friendly, do-it-all survival tarp.
Better for harsh climates:
Aqua Quest Defender
The gold standard "survival tarp" by which all others are measured. Gloriously overbuilt, with an ultra-thick TPU coating that adds amazing water and abrasion resistance. It's hefty, but would keep you dry in a monsoon.
The best tarp for most preppers is the Aqua Quest Safari Tarp, a 1.2-lb tarp (for the 10'x10') that's tough as nails but won't overload your pack. Of all the tarps we tested, the 70D silnylon Safari had the best combination of durability, weight, and beginner-friendly features such as nylon tape reinforcement on the seams and ridgeline, reinforced anchor points, and sealed seams. The silnylon material is extremely strong and tear resistant, while the polyurethane coating adds extra water repellency and UV protection — a best-of-both-worlds material and coating combo not often seen.
We also like the Safari's beefier sibling, the Aqua Quest Defender Tarp. Where the lighter Safari is made with silnylon, this 70D plain nylon beast of a tarp is so heavily coated with thermoplastic polyurethane and DWR that we actually didn't believe it was nylon until we tested a piece of it in muriatic acid. This tarp isn't as tear resistant as the silnylon Safari, but it's dramatically more resistant to abrasion, water, and sunlight.
That extra toughness means the Defender weighs almost twice as much (2.33 vs. 1.2 lbs in 10'x10'). The extra pound might be worthwhile if you live in an area that snows, since the Defender will hold up under that weight and moisture better than the Safari. The Defender was also a few dollars cheaper than the Safari at time of publishing.
Both of the Aqua Quest tarps are made in China. They're still high-quality, though, and even American makers we talked to didn't say anything bad about the quality of the Chinese-made competition (which rarely happens). We also recommend buying just the tarps, rather than bundles, since the AQ post stakes are not great.
Upgrade Pick
Popular with experts:
CCS Tundra
The Tundra is legendary in the tarping community. High-quality, thick silnylon, with every double-stitched seam and edge fully reinforced with nylon fabric. Near impossible to break, but at under 2lbs it won't break your back.
If you want a Made-in-the-USA upgrade in build quality, beginner-friendliness, flexibility, size, and strength-to-weight ratio, the 10'x10' Tundra Tarp from Cooke Custom Sewing was our overall favorite tarp in this review. The uncoated 70D silnylon doesn't have the UV and water resistance of the TPU-coated Aqua Quest tarps, but the upside is every one of the seams is reinforced with thick nylon. You're just not likely to bust this thing apart, no matter how crazy you get with it. The Tundra also has a whopping 24 anchor points, giving you more versatility than you'll practically need in any situation.
The Tundra comes in multiple sizes from 8'x10' up to 15'x15' and includes some nice guy lines, saving you from buying more or sacrificing your paracord to fill that role. The one downside to the Tundra is that the double-stitched panel seams aren't sealed — but sealer is included in case you want to do it yourself. You may also care that the green color is a little too bright to be considered a 'natural' green.
Review: Best survival paracord
Budget Pick
Cheap, but good enough:
Ryno Tuff Hammock Rain Fly
A steal for the price. Checks all the core boxes: quality polyester, sub two-pound weight, reinforced edges and tie-outs, PU coating, and a generous 10'x10' size.
The competition isn't even close — the best budget tarp is the 10'x10′ Ryno Tuff Hammock Rain Fly. Under two pounds, solidly built, PU-coated rip-stop polyester, reinforced edges, and fabric tie-out loops at an insanely low price. Plus it comes with four decent stakes and six guy lines. We're not sure what thickness this tarp is — at this weight and size, it's definitely not 70D, so it's probably around 30D — so we wouldn't want to really torture it. But if you're looking to get the most survival tarp for the money, this is the best overall value in this guide. There really isn't another tarp that can touch the Ryno Tuff in price per square foot, and when you add in the reinforcements and other features, it's a home-run.
Small Pick
For the minimalists:
Etowah 6x10 1.7oz nylon
This 6X10 nylon tarp has a high-quality, single-panel nylon and PU-coated personal survival tarp that's perfectly sized for one person and their gear. With no inner seams that can leak, it'll keep you dry under the worst conditions.
If you want to go smaller than the generally-recommended 8'x10' minimum, the 6'x10′ Etowah is the same weight as the 10'x10' AQ Safari but in a tougher PU-coated nylon. We were impressed by just how compact the this tarp can get for storage. The single-panel design means there's no interior seams, so waterproofing is excellent, and it comes with six three-sided aluminum stakes (the kind experts recommend). If you want to go even smaller, down to just barely enough for top-only cover of one person, the silnylon 8'x5' Etowah MUST is crazy light and compact at just 8 ounces (add a little more for the guy wires and stakes), but you'll really start pushing the limits of acceptable durability and functionality. For example, the silnylon material is just too slippery to be used as a stretcher or sled.
Lightweight Pick
Complete package:
Paria Sanctuary Siltarp
The Sanctuary is a lightweight, 30D silnylon tarp that feels and functions like a much heavier survival tarp, thanks to its added PU coating and reinforced seams. A first-class alternative to the heavier survival tarps.
If you want to minimize weight and understand the tradeoffs — ie., you'll want to avoid using an ultralight tarp for heavy-duty or abrasive tasks such as ground cover — the Paria Sanctuary Siltarp stood out in our testing as the best lightweight option that's still robust enough for general survival use. The 8'x10' version is only 14.7 ounces. It's 30D silnylon with extra polyurethane coating for added waterproofing, increased UV resistance, and extra surface friction (ultralights tend to be slippery). The inner seams are all double-stitched and factory sealed for extra waterproofing, and the edges are reinforced with extra nylon so that they'll better stand up to accidental over-tensioning.
We didn't put much emphasis on included extras when making our picks, but it's great that the Sanctuary comes with six ten-foot, 1.5 mm reflective Dyneema guy lines and six three-sided aluminum stakes. Unlike our Aqua Quest top picks, you won't need to buy anything else for a complete loadout.
Polyester Pick
Heavy and durable:
Kelty Noah 9
Polyester tarps like the Kelty Noah are preferred by many experienced tarpers and preppers for their stretch resistance and superior water resistance. The Noah is a solid, widely loved poly offering at a reasonable price.
Nylon is great, but there are downsides: it stretches, is not very UV resistant, and can absorb water (which leads to sagging). Polyester is stronger in those areas at the expense of added weight. So if you picture yourself heavily using your portable tarp in rough settings, you may want to consider these polyester options.
The Kelty Noah 9 is a polyurethane-coated, 68D polyester tarp that won't break the bank and can be used for any of survival tarp uses we consider in this review. All of the Noah's seams are double stitched and sealed, and the edges are reinforced with polyester tape for extra toughness. The anchor points are also reinforced. The major downside is weight: clocking in at 2 pounds, the Noah is the heaviest pick on our list. The minor downsides are: 1) a relatively-low hydrostatic rating, which means it's a bit less rainproof than other top options, and 2) it's not ripstop, so a tear will travel further unless it's patched quickly.
Add-ons
Don't blow away:
MSR Groundhog Stakes
These three-sided aluminum stakes from MSR are widely recommended by veteran tarpers. The shape and length give more surface area to grip the ground, and they're tough as nails.
Keep the lines tight:
MSR Camring Tensioners
Over-tightening your guy lines and ripping your tarp is a common mistake. These clever tensioners help you avoid disaster. Perfect tension every time, with no fancy knots needed.
Be prepared. Don't be a victim.
Want more great content and giveaways? Sign up for The Prepared's free newsletter and get the best prepping content straight to your inbox. 1-2 emails a month, 0% spam.
Why you can trust this review and how we tested
In addition to our own lifelong experiences, we spent 53 hours on this project, including interviews with survival instructors and experts from manufacturers. We started by researching all of the common tarps brought up by people in related fields like bushcraft and backcountry hiking, creating a list of 50+ options.
Using the criteria below, we narrowed that list down to 22 top contenders for hands-on field testing. We bought most of the products ourselves, although a few manufacturers provided free samples (which never affects our reviews).
We used the tarps in the field for a few days doing common tarp tasks like building shelters. Since these tarps are mostly made of the same materials — ripstop nylon and polyester in various weights — we mostly focused on close examination of build quality, features, weight and other measurements, and ease of use for different tasks.
For instance, we had heard that PU-coated tarps were easier to make an improvised gurney or sled with, and we generally found that to be true. We were, however, able to make a gurney that easily held 100 pounds on friction alone with a 70D silnylon tarp, so if the tarp is thick enough then silnylon will work for this.
Max weight of 2.5 pounds. There's no reason to go above this based on the market options and your overall go-bag constraints.
Durability first, low weight second. If we were choosing between two different offerings from a tarp maker, we tended to pick the thicker and heavier product over a lighter but less durable alternative.
Nylon is generally better than polyester due to its superior strength-to-weight ratio and abrasion resistance. But we have included some polyester tarp options, because some will want poly's superior resistance to water, stretching, and UV.
Minimum 30D fabric weight. Tarp fabrics in the 20 Denier range are amazing for ultralight hiking, but they aren't durable enough for the full range of emergency uses. Although we knew enough ahead of time to believe 30D was the right minimum, we bought some of these ~20D tarps anyway to compare with real-world uses.
(A denier is a unit of measurement for the thickness of a fabric's threads. A human hair is 20 denier, ie. the same as some of the tarps in this review. So a 70D tarp has fibers that are over three times the diameter of a human hair.)
Beginner-friendly design that will stand up to abuse. Although you're not actually prepared until you've used all of the gear you may depend on in an emergency later, we know most people haven't actually set up and slept under a tarp (called 'tarping'), let alone done so in bad conditions. So we favored products that could stand up to common newbie abuse — namely over-tensioning.
Cloth loops are better than metal grommets. Grommets require poking holes in the main fabric, which introduces a point of weakness where tears can start. They're also impossible to replace if one rips out in the field, whereas a cloth loop could be more easily reattached or replaced. Some tarps, like the one in the picture below, have both, but we prefer loops only.
Reinforced anchor points placed along seams are a prime example of features that make things easier for newbies and more durable in extreme conditions. When a tarp is being pitched for shelter, it's anchored to the ground and/or other support (eg. trees) via dedicated anchor points that are built into it. In most modern tarps, these anchor points are fabric loops (polyester or nylon) sewn into the edge seams.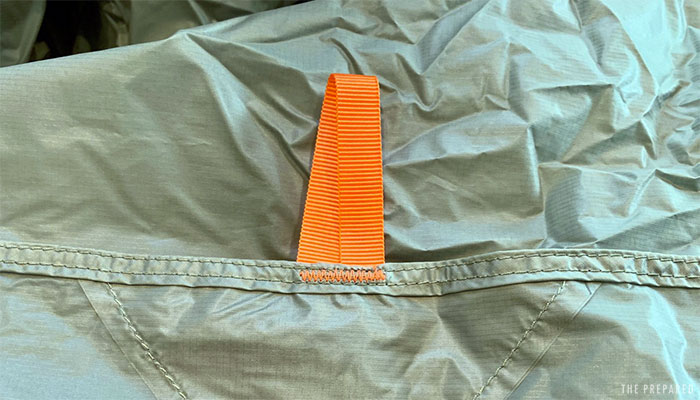 Most of the products we compared have extra fabric sown in behind each anchor point as reinforcement. But this is not always the case, and the degree to which this reinforcement matters is debated. The consensus seems to be that if you know how to pitch a tarp properly, the anchor point reinforcements just add weight and are cosmetic — but you're probably not an expert, and it's okay to err on the side of durability for nasty emergency conditions.
Many tarps have "pull-outs," which are anchor points in the middle of a panel. These are for anchoring the tarp to some raised structure, most often a tree, so that it doesn't sag inward.
Since most tarps in our target size range are made of more than one fabric panel, seams are unavoidable. Quality tarps add extra reinforcement and waterproofing to those seams since they're often a point of failure. We look for at least doubled stitching with additional sealant over the length. If you end up with a tarp that doesn't have sealed seams, pick up some $9 GearAid Silicone Sealant for a DIY solution.
Strong edges. The outer edges are typically folded over and stitched (either double or single). Some tarp edges are sealed, and some are reinforced with added nylon or polyester "tape" (basically a strip of fabric sewn in).
The edges of a tarp can see some wear and fraying over long years of use, but the main reason for reinforcing them is the edges are where much of the load and tension is when you tie the tarp down. So if an edge isn't strong enough, the tarp can rip or fray under the stress.
"Structure" and ease of handling. It's hard to describe, but there's as much difference in tarp material feel and ease of use as there is in clothing fabric. Some tarps are slippery and limp, while others will hold their "structure" without being too rigid. We favored tarps that felt easy to work with but had enough of that structure to be helpful. Vice versa, we disliked tarps that were too thin, slippery, or difficult to wrangle.
Rectangular, with no cuts or curves. We researched many and bought a few tarps with odd shapes or cuts (sometimes called "catenary cuts") optimized for overhead shelter, but every expert we've talked to believes that square- and rectangle-shaped tarps (aka "flat tarps") are the most flexible and therefore best for survival.
Quality extras are nice to have, like three-sided aluminum stakes and guy lines, but didn't end up swaying us much one way or the other.
Tarping (tarp tent) and other uses in an emergency
The list of possible uses for a tarp is endless, but here's a few examples you may not have considered.
Overhead shelter is the obvious one. With a rectangular tarp and some cordage (usually paracord), you can create a near infinite variety of barriers between you and the sun, wind, and rain.
Besides a main living/sleeping shelter, you may create an auxiliary shelter for supplies or an outhouse, a wind break for a camp or cooking area, or a rain fly hung over a hammock or tent.
Privacy shield when sheltering with others. You might end up in a FEMA-style camp, cramped together with other people in small areas (eg. 20 people living in a school classroom), or in a makeshift camp like the Walmart parking lots after the 2018 CA wildfires. A tarp can give you a degree of valuable privacy in such circumstances.
Signaling: A tarp will likely be the single largest thing you have when bugging out. Although we generally favor neutral colors for concealment, most tarps have enough contrast where you can find a good spot to signal for help with one when needed.
Personal weather protection as a blanket or poncho. When used as a blanket or other kind of thermal layer, remember you need loft / other layers to trap the warm air. The tarp itself acts more like a windbreaker or outer shell.
Rainwater collection: In Selco's book and in his blog posts about surviving the Balkan War in the 90's, he frequently mentions how important nylon tarps were in allowing his family to collect drinking water during the year they were trapped in a besieged city. So whether your'e rural or urban when disaster strikes, a good tarp can be the difference between having water and dying of thirst.
Stretcher or sled: Combine a tarp with branches, trekking poles, or other similar objects and you've got a makeshift gurney or stretcher. Or, instead of carrying an injured person, you can make a sled for hauling objects like downed game or firewood.
Hiding gear/firewood/valuables while away from camp: Tarps that are made with camouflage patterns, or in natural colors like green and brown, can be used to hide a cache or even a campsite that has to be left unattended.
Close off an area to retain heat or protect from environmental hazards: There are many possible emergency scenarios where you're inside a structure and you need to close of part of it with a tarp. You could be trying to contain heat in one room of a cold house, or you could be trying to protect against airborne threats associated with a nuclear, biological, or chemical disaster.
What about ground cloths?
It's common for folks who camp with a tarp to use a groundsheet (aka "ground cloth" or "ground cover") underneath the tarp to keep themselves and their gear separated from twigs, dirt/mud, rocks, insects, and morning dew. Besides the obvious benefits, this can also help with your mental state and give you a nice area to spread out your gear for organization, cleaning, or detailed work.
Nothing says you have to have a barrier between you and the ground — but there are plenty of survival situations where you'd like to be able to, especially in cold or wet areas.
A good go-bag often includes large contractor trash bags, which can be used as a makeshift ground cover or filled with leaves/paper for an insulating layer, but they'll never be as good as a proper tarp.
Assuming you want the ability to cover the ground, there are two choices:
Carry one tarp large enough to create a floor, wall(s), and ceiling
Carry two tarps, one of which is intended for the ground
Both cases add more weight. But, all else being equal, we prefer having two tarps because it gives you more flexibility with your gear, reduces single points of failure, creates a backup if needed, you can optimize for materials and coatings that are better for abrasive ground, you avoid the "large tarps are hard to handle" problem, and it's easier to clean or store a dedicated ground cloth.
That's why some of The Prepared's experts carry an 8'x10' main tarp plus a smaller ultralight Dyneema tarp (which are often specifically designed only for overhead cover). Ignoring budget, the combined weight and space is about the same as one robust 10'x10'-10'x12' option. But the ultralight tarp can be used purely for overhead cover while the tougher main tarp is used for ground cover and everything else.
As an added bonus, you could get crafty and have one tarp in a color that blends with your environment while the other tarp is bright and good for signaling.
What's the right size?
The right size for the majority of readers will be in the 8'x10' to 10'x12' range. Many of the tarps in this review are available in multiple sizes, so you can choose what makes sense for you at checkout.
Here are broad rules of thumb for tarp sizes, suggested to us by Paul Fitzner, founder of Etowah Outfitters:
One person: 8×5 to 8×10
Two people: 8×10 or 10×10
Three people: 10×10 or 10×12
More than three: 10×12 or more
But don't just think in terms of "how many people" — your go-bags are generally configured to support one person, with each adult in your household carrying their own. You don't want to buy one extra large tarp for your whole family without other backup options, for example. Small children and pets would likely huddle under an adult's tarp, too.
Plus, as you know, there's more to a survival tarp than just an overhead shelter. So while an 8'x5' might be enough to cover your prone body with an A-frame, what about your gear, firewood, boots, etc? What about the rain or snow melt coming off the edges? Wind? Ground cover? And so on.
On the other hand, even when you ignore the added weight and space, bigger tarps are harder to handle in high wind.
Tarp materials: Dyneema, nylon, silnylon, polyester, ripstop
What most people think of as a "tarp material" is actually two components: the base fabric itself and the coating (if any) applied to it.
The most common fabrics for these kinds of bushcraft tarps are nylon, polyester, and a special branded type called Dyneema Composite Fabric (similar to how Gore-tex is a brand of waterproof material) that was formerly known as Cuben.
To make a DCF tarp, the Dyneema fibers are laid (not woven) in a crosshatched configuration at 90 degree angles and laminated between two layers of Mylar.
You'll often see words like "silnylon", which blurs the lines between fabric and coating. Silnylon is just nylon impregnated with silicone (sil + nylon) for waterproofing and added strength. Same for silpoly (sil + polyester).
You may run across people in social forums who use or make tarps out of alternative materials like Tyvek or Visqueen — they're better than nothing, but unless you already know how to make tarps, use those materials, and understand their downsides, it's better to just buy a proper off-the-shelf product and move on.
In short:
Dyneema is the premium hotness, but it doesn't make sense as the sole tarp you may depend on due to cost and abrasion concerns.
Polyester doesn't get as much love as nylon, but it's still a good tarp fabric and particularly shines in longer-term outdoor applications.
Nylon is the safe go-to. It has some downsides that matter for prepping, such as water absorption, but that can be mitigated with coatings.
| | Nylon | Polyester | Dyneema |
| --- | --- | --- | --- |
| Cost | Moderate | Inexpensive | Very high |
| Strength-to-weight ratio | Good | Worst | Best |
| Tear resistance | Great | Good | Best |
| Flame retardance | Bad | Mediocre | Terrible |
| Water resistance | Worst | Good | Best |
| Abrasion resistance | Best | Good | Worst |
| Puncture resistance | Good | Good | Best |
| UV resistance | Worst | Best | Good |
| Stretch resistance | Worst | Good | Best |
Cost: DCF costs roughly five times more per square foot than silnylon. Silnylon is two or three times the cost of plain polyester.
Strength-to-weight ratio: Generally speaking, this is how resistant a given volume of a material is to breaking under load. DCF's ratio is 15 times better than steel. In this review we mostly use "strength" as a shorthand for this characteristic. For instance, we say that nylon is stronger than polyester because between two threads of equal size, the nylon one will be harder to snap.
Tear resistance: How difficult it is to rip the material. This characteristic is mostly important when thinking about how the tarp will hold up under a load, when it's tied down and being blown by the wind. The larger the tarp, the more wind it will catch, increasing the importance of tear resistance.
Ripstop improves on regular nylon's tear resistance and strength-to-weight ratio by reinforcing it with a grid of thicker threads. This interlocking grid pattern prevents small tears from spreading, and slows down bigger tears.
Flame retardancy: It's common for embers from a fire to be blown over your shelter. Dyneema will melt through instantly when hit by an ember. Nylon will also melt, though its melting point is a higher than Dyneema's. Polyester will burn, but its burn temperature is higher than Nylon's. So of the three materials, it's the least weak (though it's still not great).
Water resistance: All woven fabrics absorb water, but some absorb more than others. How much water the tarp fabric absorbs affects how much it will deform and sag during a rain storm, and how strong it stays when soaked. Some creative bushcrafters have even made a kayak out of Dyneema.
Abrasion resistance: This measures how well the material wears when it rubs up against something — a tarp laid over rough ground is a prime example — and there's quite a variance from one type of material to the next. You'd never want to use DCF as a ground cloth, for example.
Puncture resistance: How tough it is to poke a hole through the material. All of the materials we consider here have pretty good puncture resistance, though of course thicker material is better in this regard.
UV resistance: Some materials, like nylon, will lose strength when exposed to the sun's ultraviolet rays for longer periods. The degree to which this matters for tarps is debated, but if you think you might be living out of the tarp as a primary long-term shelter during the day, then more of this characteristic is likely better.
Stretch: Thinner fabrics popular in ultralight circles, namely 15-30D nylon, have a lot of stretch. This may be from rain, snow, wind, or tension, but it can even happen just from gravity. It's common for tarping campers to redo guy lines during the night to correct for sag. Stretch can also affect how loud or quiet a tarp is in strong wind, as a stretchier tarp can flap around more often and violently.
Not all Dyneema is the same
You might notice contradictions when people talk about the qualities (e.g. abrasion resistance) of Dyneema. The Dyneema website touts DCF as having superior abrasion resistance, for example, and you can find "Dyneema" ground cloths from reputable makers like Hyperlite Mountain Gear. Also, Dyneema cords and ropes are incredibly abrasion resistant, which makes them popular with off-roaders as winch line.
So is Dyneema resistant to abrasions or not? What's going on here is that Dyneema products come in many different forms, and the abrasion warning above applies specifically and narrowly to the kinds of thinner DCF found in tarps and some tents.
The actual Dyneema fibers that make up the bulk of DCF do indeed have legendary abrasion resistance, but the mylar laminate that keeps those (unwoven) fibers together and laying at 90 degree angles to one another is just a plastic, and as such it abrades and develops pinholes fairly easily.
There is such a thing as abrasion-resistant fabric woven from Dyneema fibers, and HMG uses it for packs. But as far as we know, nobody has used this for a tarp. So until someone does, abrasion resistance remains a big weakness of DCF tarps for prepping.
The most common weight of Dyneema for tarps is 0.51 ounces per square yard, though you can find tarps in a bit thicker 0.67oz/sqyd flavors. At these low thicknesses, abrasion is a problem. Much thicker DCF fabrics do have excellent abrasion resistance — hence the marketing claims about DCF's abrasion resistance — but these are not used for tarps.
Coatings: silicone and polyurethanes
Almost every legit tarp has some kind of coating, which strengthens qualities such as UV or tear resistance. The most common coatings are silicone, polyurethane (PU), and thermoplastic polyurethane (TPU).
In short:
Many experts we've talked with say they prefer PU/TPU coatings for long-term critical survival needs because it generally makes the tarps tougher for the types of wear-and-tear you'll experience in an emergency.
But PU/TPU tarps are generally heavier and harder to stuff into small storage spaces.
| | Silicone | PU | TPU |
| --- | --- | --- | --- |
| Cost | Most expensive | Least expensive | More expensive |
| Thickness | None added | Increased | Increased |
| Stiffness | Worst | Better | Best |
| Slipperiness | Slippery | None | None |
| Water resistance | Good | Better | Best |
| Tear resistance | Best | None added | None added |
| Abrasion resistance | Good | Better | Best |
| UV resistance | None added | None added | Some added |
Cost: Silicone is infused into the threads of nylon or polyester fabric — then called silnylon or silpoly — making the material more resistant to tears, water, and abrasion . It also raises the price, as sil-coated products can cost twice as much as those with PU coatings. TPU is generally more expensive than PU, but provides better benefits. Note that it is not always possible to tell when you're getting PU and when you're getting TPU, since some "PU" coatings are, in fact, TPU.
Thickness: Since silicone coatings are impregnated into the fibers, rather than a coating painted on top, sil-products are generally thinner, lighter, and easier to stuff into a sack than the PU alternatives. PU and TPU are a plastic layer over the tarp, so the added thickness and weight depends on the amount used.
Stiffness: TPU is more flexible than PU, but silicone is the most flexible of all.
Slipperiness: Silicone makes the tarp slippery and harder to work with. The PU coatings, in contrast, make the tarp easier to wrangle because they're not slippery and they add some structure and stiffness.
Water resistance: Silicone adds water resistance, but PU and TPU add even more.
Tear resistance: Silicone fabrics have more than double the tear strength of PU ones.
Abrasion resistance: PU and TPU add abrasion resistance, as there is an extra layer of material (the coating) that will abrade down before it gets to the tarp.
UV resistance: Silicone by itself doesn't improve UV resistance, but in practice many manufacturers add another chemical to the treatment process that enhances this quality. PU also doesn't add UV resistance but does add some fire retardancy. TPU boosts UV resistance.
Packing a tarp: stuff, fold, or roll?
We surveyed experts on their preferred method of stowing a tarp in a stuff sack. The answer came down to personal preference for everyone we talked to, but that said, the experts preferences varied by tarp material:
Thin silnylon: it's easy to stuff, so just cram it in the stuff sack.
Polyester and thicker PU-coated nylon: often easier and better to fold properly, since the material doesn't lend itself to scrunching down.
DCF: everyone folds and rolls this up, because they're worried about pinholes in the creases after long-term use.
Aqua Quest Defender
The AQ Defender is one of the common recommendations seen in prepper blogs and forums, and it's easy to see why. It's extremely tough (albeit a little heavy) and will stand up to the kinds of abuses most people would experience in an emergency. The only other tarp we felt the same way about was it's sibling, the AQ Safari.
The model we received only had a stuff sack included, so you'd add your own guys and stakes if wanted.
There are multiple sizes, and we reviewed the medium one (10'x8′).
The Defender is made from four panels of 70D, TPU-coated ripstop nylon, with sealed seams and edges. The seams where panels join are double stitched and sealed. The center line seam is reinforced with nylon tape to hold the loops. The tarp edges are single stitched and not reinforced.
There are 16 total anchors: 4 corners, 6 on the seams, and 6 on the reinforced ridge line. The corner anchor points are reinforced with extra nylon backing, but the loops in the middle of the panels are not.
The tarp itself really feels heavy, like it could take a beating. You could certainly use this as a group tarp. It's very easy to work with because it's not slippery at all and has a lot of structure. You pay for all this substance and the extra-thick TPU coating with increased weight.
Aqua Quest Safari SIL Tarp
The main difference between the Defender and Aqua Quest Safari is the material and coating. The Safari is silnylon vs. the Defender's nylon, and the Defender has an insane amount of TPU coating, making it feel hefty. The Safari feels more nimble and weighs about half as much.
The Safari has the same beginner-friendly features as the Defender — nylon tape-reinforced ridgeline, reinforced anchor points, double stitched and sealed seams and edges — as the Defender, but in a lighter package without the TPU overkill.
The Safari comes in multiple sizes, and we reviewed the medium (10'x7′).
The little bit of added PU coating makes this tarp easy to work with, giving it some structure and texture that will help you manipulate it in adverse conditions, especially if you're alone and don't have help.
Cooke Custom Sewing Tundra Tarp in 1.9oz Silnylon
The CCS Tundra is a very nice tarp from an American boutique maker, and the price is extremely reasonable given the quality and the brand reputation. It's tough and lightweight for its size.
The Tundra is a four-panel design, and the inner seams and edges are reinforced with extra nylon tape, adding some weight but making it more forgiving for beginners.
The 70D silnylon feels very tough and substantial, and despite its slipperiness we found it quite easy to work with. We made a test gurney with it, and it held 100 pounds on friction alone.
There's a center tie-out at the top, and the center is strongly reinforced, with a nice set of extra tie-outs underneath for hanging stuff from it when it's pitched.
The seams are not sealed from the factory, but sealant is included if you want to do that yourself.
There are many size options for the Tundra. We picked the 10×10 in 70D, because it one of the great things about this specific model is that it's close to the same weight as some of the smaller silnylon plus PU tarps.
There are 24 anchor points on the edges, plus 8 on the panel seams, plus one in the middle. So tons of anchor options, giving you plenty of flexibility.
Etowah 8.5×5.5 MUST in Dyneema
At just 3.4 ounces, Etowah's Dyneema MUST weighs so little and is so compact that it's barely there in a pack. The minuscule pack weight makes this an outstanding second tarp option. We could leave this tarp in its stuff sack, and then stuff that whole package inside the stuff sack of one our main picks and not even notice a difference.
The Dyneema MUST has reinforcements on the anchor points and corners, and the tie-outs (the anchors in the middle of the panels) are reinforced.
At $168, the MUST is a little over half the price of the larger, heavier ZPacks Flat Tarp. So it seems a little less fiscally insane than the ZPacks as a secondary survival tarp for a single person who wants a backup.
Etowah 8×5 MUST in Silnylon
This is Etowah's standard-sized MUST, but in a lightweight >8oz 30D silnylon. Has the standard Etowah features: single stitched edges, single-panel, no anchor point reinforcements, and nylon loops. The stuff sack for this tarp is sewn to the tarp itself, which is a nice feature.
As is the case with all the other 30D silnylon tarps in this review (specifically, the ones that are only 30D silnylon and do not also have an added PU coating), the MUST is slippery and light, and feels a little on the fragile side. We wouldn't want to get too crazy with this one, and would limit its use to less intense applications like overhead shelter and rainwater collection.
Etowah 8×10 70D Nylon Standard Tarp
The Etowah 8'x10' Standard is a 70D nylon flat tarp, aimed at more serious tarp campers, and it doesn't have much in the way of bells and whistles. There are twelve anchor points along the edges and corders, and one center anchor point. But none of these are reinforced.
It feels very tough and sturdy in the hand, and is pretty easy to work with.
We like that it's a single panel with no ridgeline or inner seam, and there's 1 ounce of milspec PU coating on it that really helps with the hand feel.
This would be a good choice for a higher quality, USA-made general camping tarp. At about $50, it's significantly cheaper than the similarly sized Aqua Quest Defender and Safari tarps, and could work well as an alternative to either one.
In fact, there is enough PU coating on this tarp that it's sort of halfway in terms of waterproofing and abrasion resistance between the Defender and the Safari, so if you're looking for a middle ground between our two main picks then this could work.
Etowah Gray 8×10 Sinlyon Standard Tarp
The Etowah Gray 8×10 Silnylon Standard is exactly like the 70D Etowah 8×10 in terms of anchors and other features, but this 30D version is a mere 13.5 ounces all in. It doesn't come with anything other than attached stuff sack, so it's pretty minimalist for an $90 tarp.
We do like the way the stuff sack is sewn onto the tarp itself, because this will keep you from losing it.
All the things we said above about the feel and possible uses of the 30D silnylon offerings apply to this one.
Foxelli Rain Tarp
The Foxelli Rain Tarp was clearly the worst among the contenders. It's a cheap polyester, has grommets instead of loops, and comes with only two stakes. To be frank, it seems like Foxelli wasn't even trying with this one.
Go! Outfitters Apex Camping Shelter
The Go! Outfitters Apex Camping Shelter is a catenary cut tarp in sturdy 70D, PU-coated polyester, with reinforced edges and anchor points. The seams and edges are double stitched, and there are loops instead of grommets. The ridgeline is sealed, and there are 20 anchor points that give you a lot of options.
The included guys are fairly bulky, and the post-style stakes are nothing to write home about.
Ultimately, this is a moderate weight tarp of good quality that would be great on a budget, but it's cat cut so it doesn't meet our shape requirements for maximum flexibility. It's more of a specialized hammock camping shelter than an do-it-all survival tarp. This would make for a solid budget camping tarp pick.
Kelty Noah
Kelty sent us the Noah 16, but we ended up recommending the Kelty Noah 9 as a more realistic size (the 16 and 9 refer to the square edge size).
This is a big, heavy, 68D polyester tarp that gives very good shade because of its thickness. The edges are double stitched and reinforced with tape, and anchor points are reinforced with extra fabric. The inner seam is double stitched and sealed.
The corners are reinforced with extra material and come with paracord-style guy lines installed. The included stuff sack is a dry bag style, so you can seal it up away from the elements. This makes it a good option for a float trip or a boat-based bug out.
This tarp is not ripstop, which helps with the weight but not the tear resistance. So it's more suited to covering and sheltering applications — especially long-term out in the elements — than it is to uses where it may get punctured or ripped.
Mountain Laurel Design Grace Tarp Silnylon
The MLD Grace Duo is a very high-end hammock camping tarp in 30D silnylon — MLD actually calls it "pro silnylon," since it's a special version that's impregnated with extra silicone. The added sil takes it up to 1.55oz/sqyd in weight (regular 30D silnylon is 1.1oz/sqyd), so it's a little heavier despite the thinness.
It's hard to describe why the build quality of this tarp feels so off the charts. It's like holding a really nice item of clothing, but it's… uh… a tarp. This is one of two tarps in this review that the adjective "Gucci" really applies to. (The other is the Warbonnet Minifly.) It's clear that MLD takes a lot of care in their products, and if this were a flat tarp we'd no doubt find a way to work it into our top picks. However, the Grace Duo we reviewed is cat cut, so it's not advisable for use as a survival tarp.
MSR Thru Hiker 70 Wing
The MSR Thru Hiker is a 20D ripstop, PU- and silicon-coated two-panel tarp that was one of our favorite sub-30D designs. It has excellent water resistance and feels sturdy, so if we were looking to save a little more weight without going to Dyneema (it weights just over 14 ounces all-in with stakes and guys), then we'd go with either this or the REI Quarter Dome.
The Thru-Hiker packs down very small in its stuff sack, and it's the only tarp in this review that comes close to the two Dyneema tarps in terms of packed volume.
The edges on this tarp are single-stitched, and all the anchor points and corners are reinforced. The inner ridgeline seam where the two panels join is double stitched and doesn't appear to be coated. Six of the anchor points (three on each end) have included guy lines attached, and there are six stakes included in a small sack.
The reinforcements are nice, but the 20D does feel pretty fragile. Justly or no, we felt like this needs babying, so while it's a great ultralight or camping tarp it's not the best emergency/survival option.
Ultimately, this tarp is very close to the Quarter Dome in terms of features, price, size, and overall feel, so it's kind of a tough call picking between the two. If you're looking at both, pick whichever is cheapest at the time.
Outdoor Products tarp from REI
The REI Outdoor Products Tarp is a pound and a half for the 8'x10' version. Has grommets instead of loops. It is made of a polyehylene material, has a grommet in each corner and one at the center of the long-side edges. There really isn't much going on with this thing in terms of features or quality, but for $10, it allows you to stock multiple cheap tarps for home preps.
Paria Sanctuary Sil tarp
The two-panel Paria Sanctuary somehow managed to be the only 30D nylon tarp in this roundup that still looks, feels, and functions like a do-it-all survival tarp. No, we would not trust it to hold up to the same amount of torture as 70D silnylon, but with its combination silicon and PU coating, it can stand up to some abrasion and lots of moisture.
Of the 30D tarps we reviewed, the Sanctuary feels the closest to the 70D Aqua Quest tarps in terms of features, usability, and durability, but in a bit less weight than even the Safari.
The seams and edges are double stitched and taped, and all the anchor points are reinforced with extra material. There are 16 total anchor points (including the corners), plus a center loop on the top along the ridgeline seam.
The included extras for this tarp are extremely nice: six three-sided stakes and six Dyneema guy lines. In total it weighs barely over a pound, making it our preferred pick for someone who's looking to shave ounces but still wants a real survival tarp.
REI Co-op Trailbreak Tarp
In the original review, we looked at the REI Camp Tarp 12'x12', which has since be replaced with the improved REI Co-op Trailbreak Tarp. With this new version, REI removed the inferior brass grommets with webbing lash points making this a much more durable option. The tarp is still quite large for a survival tarp at 12'x12′, but makes for a great tarp to store in your home or car supplies.
Comes with 6 reflective night time visible guylines and 6 stakes. This polyester tarp is treated with a durable water repellent (DWR) finish, and the product listing says it is good for light rain.
REI Quarter Dome
(As of 10/8/22, this tarp is discontinued but there are a few left in stock and available for purchase.)
The REI Quarter Dome is a very, very thin and light two-panel, 15D ripstop nylon tarp that's PU-coated for extra water and UV resistance. The combination of low weight, generous size, excellent water resistance, make it a solid backpacking shelter choice.
However, it's just too thin to be a survival tarp. We'd totally take this camping, but would not want to rely on anything below 30D — much less 15D — in a real emergency.
The tarp includes some relatively detailed pitching instructions with diagrams in an inner tab, which is a nice touch. The included eight stakes and guys are nice to haves, and the double-stitched edge looks like it could stand up to some strain. The side anchor points feature extra nylon reinforcement.
Ryno Tuff Hammock Rain Fly
The Ryno Tuff Rain Fly is a really solid PU-coated, ripstop polyester 10×10 tarp, with four quality stakes, six guys, taped edges, double stitched seams, and a crazy low price of $32. This tarp was a no-brainer budget pick for us.
With the stakes and guys, the whole kit is well under two pounds, and the tarp alone in the stuff sack is just a pound and a half. There is no fabric weight listed, but given the weight and size we believe it has to be 30D polyester. So it's on the thinner side, but it still feels like it could take a beating.
Slumberjack Satellite Tarp
The Slumberjack Satellite is a high-quality, PU-coated, 70D polyester tarp with an integrated stuff sack, guy lines, and ten three-sided stakes. The seams and edges are double-stitched and sealed, and the corner and center edge anchor points are reinforced with extra fabric. There are a handful of non-reinforced anchor points on this tarp on the edges between the seams.
In terms of features, this tarp checks many of the newbie/survival boxes, but in a stout polyester package that should stand up to the weather.
We also liked the camo pattern, which, when combined with the polyester material and UV-resistant PU coating, makes this tarp well-suited for hiding a stash.
Warbonnet Outdoors Minifly
The Warbonnet Outdoors Minifly is on par with the MLD Grace Duo in terms of elite hammock tarping awesomeness — the build exudes quality, from the hand feel of the material to the loops and stitching, to nice touches like the D rings in the loops. And, like the MLD, it is absolutely the wrong shape for survival use — even more-so, as it's very elongated and specifically cut for hammocking. It has just ten tie-outs, and doesn't come with any stakes or guys. So it's fairly minimalist.
The Minifly is offered in a couple of material options, but the one we evaluated is green 30D silnylon.
Warbonnet is one of the higher-end, boutique USA-made tarp makers that caters to the ultralight and hammock camping communities, so this product is aimed squarely at those markets. We can see from the quality of the Minifly why their products are so popular, and we hope they consider getting into the survival tarp market at some point in the future.
Wise Owl Outfitters WiseFly Tarp
The Wise Owl WiseFly tarp is a large, hexagonal-shaped tarp in 210T, PU-coated ripstop nylon. It features triple-stitched seams, and includes four three-sided aluminum stakes and six guys. The edges are reinforced, and the overall build quality is quite solid.
Our tarp is a bright blue color, so it wouldn't work for hiding anything, but it would definitely work as a signal flag.
This tarp is on the lighter side for amount of shelter coverage you get, which is thanks to the cuts that remove material while still letting it cover a hammock. As with some of the other non-flat tarps in this review, it doesn't work as a survival tarp because of the shape. But if this tarp came in a rectangular version it would be a contender as one of our main picks.
Overall, we were really impressed by the build quality and the feel in the hand — this tarp is thick and easy to manipulate. It's a quality hammock camping tarp that's moderately priced.
ZPacks Flat Tarp
The larger of the two DCF tarps in this review, the ZPacks Dyneema Flat Tarp is an amazing piece of technology, packing 8.5'x10' into a minuscule 6.5 ounces. This is almost half the weight of the 30D silnylon Etowah MUST of the same size — but of course it's three times the price.
The Flat Tarp is made of 0.51oz/sqyd DCF, so it's standard for this category. You can get a slightly beefier version in 0.67oz/sqyd if you go with the camo style.
The tarp also comes with fabric-reinforced anchor points, and a double stitched and sealed inner seam. There are sixteen total anchor points, with two tie-outs in the middle of each panel — which isn't something you can safely do with any kind of tarp fabric but DCF because Dyneema doesn't stretch. The worst that will happen is the anchor point will come unlaminated from the panel, but it can be taped back on.
Like all DCF of this weight, this tarp is translucent, so don't expect much privacy from it. The tarp folds and rolls back up relatively easily if you're not in the wind and it has a stiffness to it that makes it easy to work with. Outdoors, the fabric is so insanely light that it can be a challenge to work with in even a light breeze.
There is a lot to like, but as said before, experts caution against using DCF for a main survival tarp. But if you just have crazy money to blow on a secondary/backup/partner tarp, then this would be a heck of a way to do it.