Results after I tested four wireless outdoor security cameras
I wanted to chip in to the best security cameras review, so for this post I selected and bought four cameras that advertised useful features for a basic or introductory outdoor home security camera. These are my notes from personally testing the Wyze Outdoor Kit, Reolink RLC-410W, Ring Stick Up Cam Battery, and LaView Outdoor.
The main distinguishing features were a combination of battery vs wall power and devices that claimed internet-free functionality for use in emergencies or off-grid applications. By comparing devices from different vendors I learned a lot about what to look for and what to avoid when picking out a camera that I'll share at the end. Head to head comparisons between the cameras also reveal a number of interesting features and unexpected considerations.
Features Comparison
All cameras tested had the advertised the following features:
Remote live monitoring
Optional notifications for motion detection

Laview notifications didn't seem to work

Automatic IR Night vision mode
Wireless data transmission
Mounting hardware
Optional extra features, such as paid cloud storage
I put together this table:
"Personal Favorite" – Wyze
Wyze Outdoor Kit – $60
The Wyze Outdoor Camera is an easy choice for a balanced range of features and is a good option for a first-time security camera user. While there are some limitations, the combination of price, features, and ease of use make this a "sane prepping" choice for many introductory applications.
Pros:
The small, battery powered wireless device is easy to place and largely unobtrusive.
The camera offers all the basic features you'd expect such as motion alerts, live view, night vision, and audio options. (Motion alert push notifications require an internet connection)
Additional cameras are fairly inexpensive and the base station is advertised as supporting up to four cameras each.
Extra features add some resilience
An optional micro SD card slot allows for time lapse and scheduled recordings. Micro SD cards can be put in both camera and base station.
Once set up the system is at least partially usable when the internet goes out.
The device advertises a travel mode that is designed to be internet free and connect directly to your phone/tablet/laptop when it acts as a wifi access point or with the base station (if you can power it).
The camera can be recharged during active use via a usb interface (should be compatible with mobile solar chargers or battery backups)
Cons:
The app can take some getting used to with some less intuitive user interface options. The app isn't poorly designed, just not as intuitive as other options.
The app occasionally glitches, in particular manual video recording sometimes fails. Resteating micro SD card helped with this issue
The camera uses a magnet to attach to its base stand. This magnet is strong enough to support the camera however a stranger could easily steal the camera body.
The camera is best suited to near-in applications like covering entryways or close by points of interest.
The "motion zone" is not customizable and limited to the bottom two thirds of the image frame.
Raindrops that fall directly on the lens may distort the image.
Some advertised features are less useful, such as two way talk (this seems less applicable to most prepping scenarios though), users of indoor/wall powered Wyze products might be disappointed by comparison, but for the price/power constraints this is not a bad value product.
"No Internet" options are limited to travel mode and live view, can't access stored motion event recordings without internet.
Wyze Off Grid Mobile Use
Wyze advertises a mode of use where you can operate free from the internet using your phone or another mobile device. Such a use case could appeal to some prepping scenarios while on the move though the features available are somewhat limited compared to the internet-enabled option. This feature is called "travel mode" and can work with either a single camera (without base station) and presumably could work with a base station and multiple cameras, though power for the base station must be provided.
Pairing to a single camera is straightforward and allows basic functionality such as live view, and (with the addition of a micro SD card) scheduled recording events or interactive still and video recording. Push notifications do not appear to work in travel mode. While not exclusively tested, I suspect travel mode may have battery implications (either increased demand due to acting as wifi connection, decreased demand due to motion based recording being inactive, or some combination of both). While not considered during the initial purchase, this seems to be a useful and relevant 'added value' feature.
Off Grid and Technology Enthusiasts – Reolink
Reolink RLC-410W – $60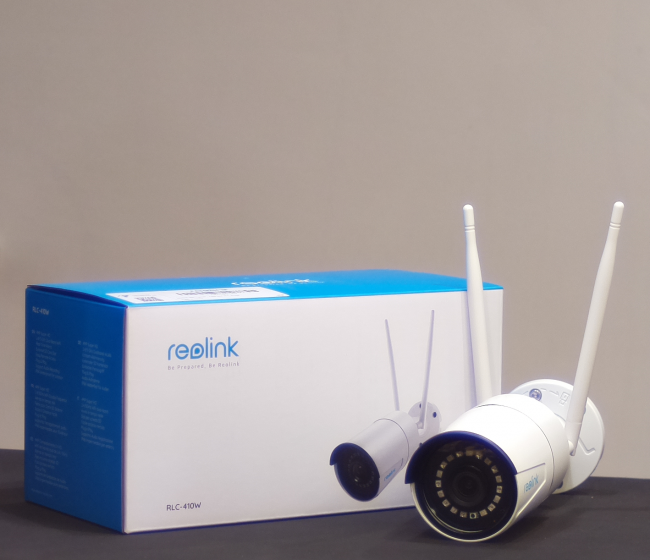 The Reolink camera requires wall power but uses wifi to transmit data offering a combination of flexibility and constraints on where it is placed. Enabled by the wall power this camera has superior image quality and additional features not provided by most battery powered options. The main appeal of this Reolink is that it allows for continuous 24/7 internet-free recording, integration with third party software/hardware, and a very durable camera body and mounting base.
This camera wouldn't be my first suggestion for many but if you're comfortable with modest hardware/software configuration and have long distance views on your property with available power outlets (or have limited internet connectivity) this camera has a number of features you may value.
Pros:
The camera offers all the basic features you'd expect such as motion alerts, live view, night vision, and audio options.(Motion alert push notifications require an internet connection)
The Internet is not required for basic usage, data can be transmitted through a wifi network that is disconnected from the internet.
This camera makes use the Real Time Steaming Protocol (RTSP) allowing for third party software and hardware integration and expanded local storage options.
Unlike battery powered options, this allows for continuous 24/7 recording.
Micro SD slot allows easy local event recording through the app.
Cons:
While the app and camera are largely plug and play an ethernet connection to input wifi network credentials is needed for initial setup. Internet access is advised for updates, software downloads, and possible app limitations (initial setup was conducted with internet access, though it might be possible through a disconnected wifi network, push notifications for motion alerts seem to require the internet)
A small hex wrench was not provided for adjusting a set screw and the provided mounting philips head screws stripped but are easily replaced with higher quality wood screws
The included power supply does not look rugged or weather proof and should be sheltered from rain. A power extension cord and the cord connected to the camera body are higher quality, though some extra weatherproofing with electrical/duct tape is suggested for some of the connections.
Third party software and local storage may require a degree of computer/network skills and internet research but is not too difficult.
Motion detection is very sensitive by default and may require some tuning/experimentation to avoid false positive alerts without missing more meaningful events. For example IR illuminated rain drops activated motion alerts even with adjustments to default settings. Custom detection zones and sensitivity can be changed. Higher end cameras from Reolink advertise more nuanced motion detection (person/car), though I'm unclear if these are local or cloud services.
It might be possible to fix night-rain detection issues by choosing an overhang or other covered area to mount this camera (to avoid having illuminate rain drops directly in front of the camera lens)
"DIY Security System" – Ring
Ring Stick Up Cam Battery – $100
The Ring Stickup Cam Outdoors is an upgrade pick most appropriate for those looking to slowly build up a full security system, are willing to pay for a monthly plan, and aren't worried about losing internet connectivity. This device unequivocally requires an active internet connection to function. Local storage options are limited to manually downloading clips from a cloud account (though it seems like a limited amount of cloud storage is provided for free, this is limited to a free 30 day trial period as it is advertised as requiring a monthly plan for download to local storage).
While not advertised it seems possible to use your phone as a mobile hotspot which would make this a mobile option so long as you have cellular internet coverage and a data allowance to spare. Due to the combination of a monthly plan (that is not well advertised and initially hidden by a free trial period) it's hard to recommend this camera unless you plan to build a full security system around the Ring ecosystem. That being said, the quality of the features provided are fairly high. Image quality, and especially audio, are handled well. The alerts are accurate, relevant, and don't require much change from the default settings.
Pros:
Default motion alert settings are most accurate for relevant motion events
Easy to mount
Clear audio filters out background noise (wind and distant road noise)
Community alerts are useful for situational awareness if other Ring users are nearby
Cons:
Monthly service fee required for upgrade and storage options
No free local long term storage options
Mounting hardware is not rugged
Internet is required for all functional usage
30 "free trial" masks limitations of app usage without a subscription
Not Worth the Time/Money
LaView Security Camera Outdoor – $50
There is a lot not to like about this Laview camera. Initial setup is not intuitive, online documentation is very poor, the app is very limited and designed exclusively for use on a phone. The app requests access to more privacy features than is reasonably required (bluetooth, location, microphone). The camera requires an internet connection for basic usage without providing any compelling cloud features that add value. The camera frame is made of cheap-feeling plastic and poorly designed, requiring a phillips-head driver-bit in a socket wrench or flexible driver to install properly. The pan/tilt functionality is nice, but not unique to this product family. The sound quality is no better, and often worse, than battery powered options. Image quality is not bad when exporting images however the phone-app size limits the utility of the camera in most use cases. Wall-power is provided through a USB cord which makes no sense.
Pros:
Pan/Tilt remote control
Automatic object tracking option for pan/tilt
Cons:
Internet required for all relevant feature usage
Poor app design and quality
Counter-intuitive setup process
Features are unreliable, difficult to enable, or non-existent
Image Quality Comparison
Wyze Image quality is not the highest in terms of resolution or contrast.  The 'washed out' effect on some types of features in the night vision is not ideal.  Regardless, the overall features and ease of use still make this a worthy pick for many use cases.
Reolink has the best image quality and lowest lense distortion of all cameras tested.  The lack of 'fish eye' type lens distortions improves image quality but does restrict view.  As a result this camera option is better suited to long views such as a long driveway.  Note the superior image contrast and detail for both day and night images.
The Ring camera suffers from a lack of native app support for export.  As a result the images above were captured as "screen captures" from an iPad in a landscape layout.   Resolution and detail artifacts may be partially a result of this capture method however they are representative of the detail visible in the app window. Lens distortion is highest for this camera which improves peripheral view at the expense of image accuracy.
While the Laview day image has crisper detail and contrast, the night vision image is very washed out by comparison.  While the app supports saving images at higher detail than other options the app is also forced into a phone-format window making active monitoring more difficult.  
Notes on Wifi Data Range
Three of the four cameras tested relied exclusively on 2.4 Ghz wifi, while Wyze uses an ethernet cord to connect a base station with its own radio for data.  Effective range of radio/wifi signals for data is limited by a number of factors including the design/type of antenna on the camera/base station and router as well as obstacles and their material (metal blocks radio frequencies more effectively than wood or brick).
Data range was not tested for the wall powered cameras as my exterior power options are limited so instead I used the battery powered cameras and a cell phone with cellular data turned off to estimate the effective range for my setup.  Router placement also matters, as line of sight improves signal strength.
All cameras were able to transmit data from the second floor to the basement without issue (the main obstacles being wood and drywall).  Similarly all cameras functioned without issue in the common testing placement approximately 20 feet from the wifi router with a single brick wall as an obstruction.  With a single brick wall as obstruction, the Wyze camera functioned without noticeable dropped frames up to approximately 60 feet with performance rapidly falling off within ten additional feet.  Ring performed somewhat better with acceptable performance through a single brick wall up to about 80 feet.
I tested the range on the other side of my house, which introduced additional interior walls and a single brick wall as obstructions.  Of note, both battery powered cameras suffered in the immediate vicinity of my front (metal) door.  Further out on this side of the house the range for both cameras suffered noticeable and were completely unusable at a distance of about 40-50 feet from the router.  The additional obstructions, including partial blockage from a metal door likely contributed to poor performance on this side of the house.
Theoretically, range could be improved by using wifi repeaters or moving the wifi router closer to the desired coverage area.  As a point of reference, my iPhone 8, with cellular data turned off relying solely on wifi, achieved similar performance which leads me to assume this has more to do with limits on wifi data transmission than hardware differences of the devices.
Battery Life
Battery life will depend on usage/activity, and the sensitivity of motion detection areas.  The Ring camera has a physically larger battery and lost a smaller percentage of its total battery life over the course of testing.  Both battery powered devices experienced nearly identical motion exposure, though their activation thresholds were slightly different with Ring also being more likely to register a relevant motion event.  Both cameras were used in a low activity area for several weeks of testing which likely improved their battery endurance.  Testing occurred for approximately 7 weeks starting with full charges.  Wyze battery life went down to 55% compared to 88% for Ring.  Both performed largely as expected in terms of battery life.
A Word of Caution:
When selecting a modern security camera you are picking not only the hardware but also its related software and services, both paid and unpaid (if an internet connection is required then the odds are high that a remote server is also being used/maintained, even if you aren't paying for it directly).  
Like any other programmable device, software and standards can change.  Ideally these will change for the better but updates can also result in reduced functionality.  This is in part why devices that do not depend on the internet have an intrinsic appeal for some, if you isolate a device it will remain static and should work short of a hardware failure or existing software defect.  If a program defect is found you can weigh the options of updating the software on your own terms.  
The same can not be said of service/internet dependent devices. Internet/service dependent devices often require you to periodically perform an update to continue using the device. There is also a phenomenon with "smart" appliances where once support by the parent company is withdrawn the devices are either useless or severely degraded, regardless relying on a company to keep its servers running adds yet another layer that can cause a failure.  
What to look for in a Security Camera Company/Product
When researching a security camera for purchase I learned some information that might help you in researching alternatives that suit your needs better.
Look for reliable companies:
Read the worst reviews first.  Every product will suffer some amount of negative feedback from a customer who doesn't like something, but well written negative reviews can point you towards pitfalls quickly.  Unfortunately sometimes the reviews come in late, one informative negative review for the Laview camera was written after the purchase was initiated.  Keep in mind, some negative reviews might be from user error or a low frequency defect.
Can you download user manuals and software from the company website? Try to read the fine print first.  Don't settle for vague or ambiguous documentation, you should see matching model numbers and ideally either publishing or copyright dates somewhere.  For example, I found a Laview user manual for a "wifi camera" that seemed to have the features I was after but this was a generic manual that did not apply to the model I selected.  Worse still, I couldn't actually find a user manual online for the model I selected, I had to see the paper copy to realize it wasn't available online.  Had I known to look closer this would have been a huge red flag.
Look for active user forums with responses from the company.  During my research I encountered informative threads from both Wyze and Reolink forums that addressed features I was curious about.  The forum activity and the company responses helped me set expectations.  Even if the responses aren't satisfactory, an active forum with even vague responses can give you insight into how transparent the company is.
Look for key features:
Learn the keywords to search for.  Before I made any selection I kept using search terms like "no internet" or "internet free" or "offline use."  This did turn up a few promising leads but for network cameras "RTSP" or Real Time Streaming Protocol is a lot more specific as a search term. Once I learned about this term it helped me find new candidates that escaped my first round of research.  Unfortunately I had to acquire a camera with this particular standard before I learned of its existence so there is a "chicken and the egg" problem with this method of research.
Download the apps and see how far you can get before buying the hardware.  Privacy notices and feature limitations might sway your opinion.
Look for third party or add-on features.  Third party interoperability will require some degree of openness that will hint at how flexible the product is.
---
Log in or register
to join the conversation