The California blackouts are not a temporary thing — PG&E is claiming these unprecedented power outages, which leave millions without power for days at a time, will be the new normal for the next decade. That's the bad news.
The one bit of good news we can offer is that it doesn't take a ton of money to get ready for a multi-day blackout. With just $100, you can meet the basic food, water, light, power, and hygiene needs of one person for up to three days.
That's the bare bones. If you want to take preparedness seriously, start with the beginner checklist and think of two weeks as your baseline.
Here are three different $100 packages we've put together for those affected by the outages. Each package is aimed at meeting a slightly different set of needs — we want to give you options, so you can tailor the recommendations to your scenario and to the preps you already have on-hand.
These recommendations are not simply things we found on Amazon. Rather, with a few exceptions, these lists come right out of our comprehensive survival gear reviews, and they represent hundreds of hours of intensive, hands-on testing and deep research. The few items that aren't selections from our guides are things we currently use and recommend, but that haven't (yet) made it into a guide.
Links to specific products and reviews are at the bottom.
The total sub-$100 blackout package: food, water, power, light, hygiene
There are many CA residents in rural areas who are on well water, which means when the power goes out and the well pump can't run, they lose access to tap water as well. They also have a hard time getting gas and buying groceries, so these folks need complete support during a prolonged outage.
This collection aims to meet all those needs at a minimum level, and it clocks in at either a little below or a little above the $100 price point, depending on the pricing Amazon shows you at the time.
The "skip the food" $100 blackout package: better water and power, more light
If you're not feeling the Datrex blocks — maybe you've got your own backup food supply, or you're planning to work your way through the contents of your refrigerator and/or freezer before it all spoils — you can put that money into battery and water container upgrades, and add in some emergency candles.
Be prepared. Don't be a victim.
Want more great content and giveaways? Sign up for The Prepared's free newsletter and get the best prepping content straight to your inbox. 1-2 emails a month, 0% spam.
The "power only" $100 blackout package
You may be all set for food, water, and hygiene, and are strictly looking to replace what the outage has taken from you: the juice to power your gear. In this case, $100 gets you major quality upgrades on the charger and batteries.
This collection is especially relevant for those in the path of the wildfire smoke, who will be trying to charge their gear under cover of smoke, and who can benefit greatly from the extra panel area that a larger, more expensive charger gives you.
The products
Best Budget Charger
Compact and inexpensive
Renogy Portable E.Flex Monocrystalline 10W Solar Panel
This sturdy, compact solar charger will keep all your gadgets charged, and you can easily throw it in a purse or pack and take it with you if you have to leave.
The data from our over 100 hours of testing of over 25 solar chargers is clear: the Renogy panel was the hands-down winner of our review of portable solar chargers when it comes to size, weight, and low price. This rugged little 10W panel will keep your USB gadgets charged for you when the wall socket doesn't work, and it's easy to stash in a pack or purse if you have to leave on short notice.

Best Bad Weather Charger
Works under clouds or smoke
BigBlue 3 28W Solar Charger
The more surface area a panel has, the better it can sustain enough wattage to charge a phone under cloud cover, smog, or smoke. The BigBlue 28W is huge, and our tests bear out that it works when the sun is obscured.
The BigBlue 3 28W charger is three times the price of the Renogy, but if you'll be working with limited sunlight — due to overcast conditions, or smoke from wildfires — then this upgrade is essentially mandatory. You really do need the larger panel area to get enough USB charging wattage out of less sunlight.

Best USB Charger
Power when you need it
EBL USB Charger with 4 NiMH Rechargeable AA batteries
Battery experts recommend NiMH rechargeable AA batteries as the best for emergencies, and our testing bears this out. The EBL charger and four-batter combo is a great deal, and works with a USB solar panel.
Reports from the blackout areas indicate that batteries are first thing to fly off the shelves when a shutdown notice is made public. This is unfortunate, because everyone — whether you're a prepper or not — should be relying mainly on high-quality rechargeable AA batteries for their daily life battery needs. There should be no need to run to the store for this item.
The EBL NiMH rechargeable 4-Pack is not our overall top pick for batteries in our in-depth battery review, but it's decent enough for the budget and has a killer advantage: it comes with a quality USB charger that checks all the technical boxes for properly recharging the NiMH battery chemistry. This means you can charge these batteries directly from a USB solar panel.
EBL charger plus four-pack is also inexpensive, and is a great value for what you get.
If we were upgrading the batteries alone, we'd go with 2100mAh Panasonic Eneloops, or with the higher capacity but shorter lifespan PowerEX 2600mAh NiMH AAs.

Best Budget Batteries
The battery charger is built-in
USB Rechargeable AA Batteries
These Li-Ion AA batteries can be charged directly from a solar panel using a USB port, eliminating the need for a separate charger that can get lost or broken.
These MKSENSE Li-Ion AA batteries have a USB charging port built into the battery itself, so you can literally plug the battery right into a solar charger and fill it up. There is no external battery charger to lose or break.
There are a few downsides to these batteries. First, their 1500mAh capacity isn't nearly as high as a dedicated rechargeable AA. Also, they're based on a Li-ion chemistry, but the experts prefer NiMH pre-charged AA batteries for their superior charge retention and lifespan.

Best LED Lantern
Light and power
PowerEX MH-PBL52 Rechargeable LED Lantern with Power Port
This combo emergency lantern plus power bank will keep your room lit at night and your gear charged during the day. It's waterproof, and has plenty of mounting options.
We're currently working on a guide to these products, but we own and so far have had a great experience with the PowerEX waterproof portable lanterns. Each lantern is sturdy and puts out a ton of light, can be charged over USB (ie. you can use your solar panel to refill it), and can act as a 5200mAh power bank for charging other USB gear.
The bottom of this lantern is magnetic, so we have these things stuck all over our house on different metal surfaces, in case the power goes out suddenly. There's also a fold-out loop on the bottom for hanging the lantern overhead.

Best Blackout Candles
No power needed
UCO 9-hour Emergency Candles 3 Pack
Old-fashioned candles should always be a part of any emergency plans, because this ancient technology can work when the modern stuff fails. These emergency candles are designed to burn for an extra long time.
We don't currently feature the UCO 9-hour candles in a guide, but UCO is a go-to brand in the prepardness market, and we recommended a number of their products in our review of emergency matches.

Best Emergency Food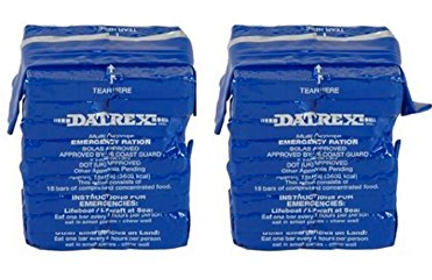 Shelf-stable food
Datrex 3600-calorie block
The Datrex bars are standard survival recommendations, and they contain enough fat, carbs, and other nutrients in a 5-year shelf-stable package to keep you going in an emergency.
The Datrex food bars are a classic staple when you need ready-to-eat food in a cheap, efficient package that lasts a long time. The bars have a minimum rated 5-year shelf life, but realistically can last a lot longer.
Note that the 3,600 calorie Datrex block is advertised as three days worth of nourishment, but that's assuming a 1,200 calorie per day diet, which you can survive on if you need to, but most people will be around 1,800+. If you want to supplement, pick up some peanut butter — it's a calorie-dense, protein-rich source of fat that keeps for a long time and pairs really well with the Datrex bars. If you really want to amp up the taste and the shelf life, go for the Future Essentials canned peanut butter.

Best Water Containers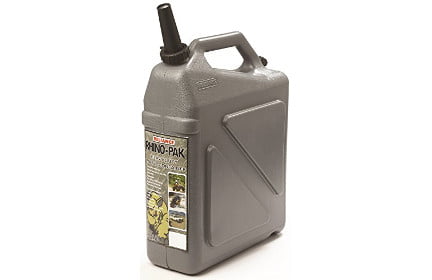 Tough and portable
Rhino 5.5gal water container
The overall winner of our best emergency water container review, the Rhino containers will stand up to some stacking or jostling around without breaking or spilling.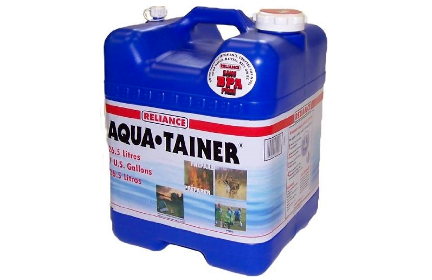 Gets the job done
Reliance Products Aqua-Tainer 7gal Water Container
The Aqua-Tainer is a budget 7-gallon water container that's good enough to get the job done for those who want to spend precious preparedness dollars elsewhere.
The rule of thumb for water storage is one gallon per day per person, so the seven-gallon Aqau-Tainer gets you over a solid week's worth of water. You don't want to depend on filling up your bathtub or using disposable plastic bottles (including milk jugs, soda jugs, etc.) While the Aqau-Tainer container did emerge as the best budget pick in our extensive field testing of water containers, it is pretty cheaply made. If you can at all afford it, we recommend spending another $6 to get the vastly superior Rhino container.

Best Wipes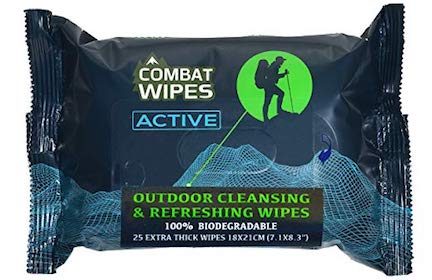 Combat Wipes Active
Biodegradable wipes that are tough enough not to fall apart under heavy use, with packaging that stays sealed.
In many of the accounts of the blackouts we've reviewed on Facebook, Reddit, Twitter, and other forums, hygiene is a big challenge when the power is out. This tracks strongly with our own experience of blackouts and hurricane evacuations, and with reports from other grid-down situations.
A good stash of wipes is far and away the best option for keeping yourself clean in an emergency — it beats wasting precious water, and you can use wipes in place of toilet paper if you have to.
We spent 16 hours researching and reviewing over 20 popular hygiene wipes, and in our testing we found that the Combat Wipes ACTIVE are the best for emergency home supplies. These biodegradable wipes held up well and did a fine job when used for personal cleaning. The packaging is simple and solid, and keeps the wipes fresh for long stretches of time.