A chest seal is one of the most important pieces of medical gear you should have in your emergency preps. Thankfully, the best chest seals are compact, lightweight, easy to use, effective, and affordable.
Your chest cavity depends on a closed vacuum in order to expand and contract your lungs. As the diaphragm moves and the chest expands, it creates a negative vacuum that wants to suck air into the lungs. Normally, the only path for air to fill that negative vacuum is by rushing in through your nose and mouth.
If the chest is punctured (eg. from a gunshot or impalement) it might become hard or impossible to breathe because air might suck in through that injury hole instead.
That's how "collapsed lungs" form. The air sucked into the chest cavity through an injury can become trapped, building up pressure that crushes the lungs.
A major "sucking" chest trauma sounds serious, but a quickly-applied chest seal is an easy way to save lives. We don't often run into these kinds of chest wounds as military medics in combat because the torso is well protected with body armor and other gear. But as civilian medics, we run into these situations with gun violence, car accidents, people tripping onto a sharp stick on a hiking trail, and so on.
Take the Pulse Nightclub shooting: From the 49 total people who were injured, 38 had chest wounds, of which 9 had survivable chest wounds if they had received a seal within minutes. That's 20% of the total victims!
A chest seal is essentially a plastic sheet that seals the hole ("occlusive" in medical terms). You can even use kitchen plastic wrap for a cheap DIY seal. But the best chest seals are designed to let air trapped inside the chest cavity get out without letting new air in.
More details below the fold.
Our Pick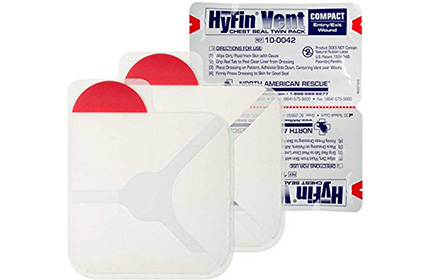 Best chest seal:
North American Rescue HyFin Vent Compact
A popular, well-reviewed option from a reputable company. We recommend the compact version (shown), but its big brother is just as fine. Three air channels, burp tab, and tight packaging.
Based on our experience as field medics (both civilian and military), emergency room doctors, and medical teachers, we recommend the $15-per-pair North American Rescue HyFin Vent Compact Chest Seal. North American Rescue is a reputable company that medics trust, so we have no concern about recommending their products.
The NAR HyFin comes as a two-pack, with each seal individually wrapped. You often see chest seals in pairs so they can cover the entry and exit wounds from a bullet or impalement. Even though you shouldn't prep for specific scenarios (like active shooters), these packages are so thin that we recommend carrying at least two chest seals in each of your kits.
We personally carry the HyFin because it's one of the overall smallest options on the market yet works extremely well with multiple air escape channels (more is better) and an aperture that's larger than competitors. Although common among the competition, we also like the transparent backing so you can see through to the wound area.
This means it's easier to carry, easier to place in the right spot (which might be hard with clothing, blood, hair, and zombie mucous), easier to use, and likely won't clog up.
The full-size $17 NAR HyFin Vent sibling is 6 inches on each side of the seal, compared to the Compact's 4.75 inches. They work the same way, the only real difference is the size of the plastic sheet, giving you potentially more coverage for a larger or more spread-out wound. The center aperture is 0.25" smaller on the Compact, but based on official guidelines and studies, we don't think the size savings makes the Compact less effective than the standard size.
The Compact packaging is 6.5″ by 7.5″, about an inch smaller on each side than the regular. When folded in half along the red line between the packages for storage, the whole thing is only 0.25″ thick.
Why you should trust us
We are field medics (both military and civilian), medical instructors, and active emergency room physicians with 66 combined years of experience. We've treated countless medical problems, including in situations like what you'll face in a disaster, and have used chest seals on real wounds.
Use your head. Get professional help if you can.
The Prepared teaches survival medicine: what to do in emergencies when you can't depend on normal help or supplies. How to make decisions, steps to take, gear to use… there's a huge difference in the right answers between daily life and a survival situation.
You agree not to hold us responsible if you choose to do something stupid anyway.
Want more free guides from medical and survival experts delivered straight to your inbox?
To vent or not to vent?
The short answer: Always buy chest seals with at least three air vents or channels.
The goal is to let air and other drainage out of the chest cavity without letting new air in. Many early products included one exhaust valve to spare you the manual work of constantly lifting the plastic flap to let air out, such as the classic Asherman Chest Seal:
But there was a problem. In practice, doctors and medics found that a single air valve would get plugged up with blood and other fun junk. That was a serious problem because whoever applied the vented chest seal thought "it's vented, so I don't need to worry about it, just set and forget!" People needlessly died.
That lead to a bit of a backlash, causing some teachers and companies to move away from vented products. Instead, you would manually "burp" a non-vented sheet every so often to let the built-up air escape.
Modern studies and the Committee on Tactical Combat Casualty Care (the group that sets these guidelines) have determined that vented products are better — we just need more vents!
So the current CoTCCC recommendation is to use a vented seal, and most experts in the community think three or four vents is the minimum needed to overcome the plugging issue.
Some products (like the SAM) that come in packs of two include one vented and one unvented seal. The thought is the unvented seal is used on the exit wound. We don't like this kind of model — there's no evidence supporting that it's a good idea — and we encourage you to only carry vented.
The competition
Beacon Chest Seal. $25 for pair. Pros: Flat design and easily folds (but not as tight as the HyFin) Cons: Combo package comes with one vented, one non-vented. Vents are close to valve.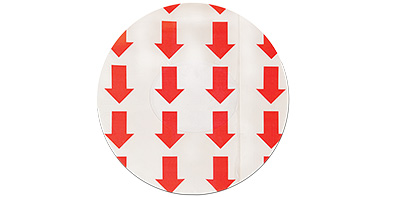 Combat Medical Sentinel Chest Seal. $44 for two (can find a bulk box of 10 for $90). Cons: Hard to buy for civilians. Not a lot of public info on real-world usage. No external burp flaps — which Combat Medical says are not needed due to their unique design and construction. The red directional arrows on the packaging (shown) indicate the best direction for placement, but the seal will drain in any orientation. A two-pack will be available later in 2019.
H&H Bolin Chest Seal. $24 (for two). Pros: In the size sweet spot. The aperture is large, so you can cover larger wounds or have more wiggle room in placement. Cons: The external valve is more likely to break and/or clog than the competition. Less compact and packable. Does not come in a two-pack.
H&H H*VENT. $22 a pair. Pros: Six ports with good coverage for gravity drainage in any direction. Large burp pull tab. Low profile. In the size sweet spot. Both seals in a two-pack are vented. Cons: There's a lot to like about this relatively new product, with no obvious cons on paper. But there isn't any third party testing yet, so we'll wait on recommending it until there's more data.
HALO Chest Seal. $25 for pair. Pros: No external valves. Four vent channels. Clearly labeled burp flap (other models aren't as obvious as the "VENT" label on the HALO). Cons: We generally like this seal, but the packaging is too large and doesn't compact well. Combo pack comes with one vented, one non-vented.
SAM Chest Seal. $33. Pros: Burp flaps on both ends (the yellow tabs). Cons: The smaller aperture means you have to be more accurate when placing the seal over a wound. We dislike protruding external mechanical valves (the white plastic bump in the middle) because they add bulk and it's another piece you have to worry about. We also dislike that the combo pack of two comes with one vented and one unvented.
TacMed Russell Chest Seal. $46. Pros: One of the largest available at 6×8 inches. Low profile and can be folded for compactness (but can't get as small as the HyFin). Cons: Too expensive at $23 per seal (sold individually).