Many preppers like military surplus packs because they're cheap, tough, and, let's be honest, they dig the tacticool look. We largely steer you away from those types of bags in our survival backpack roundup, but that doesn't mean they're universally without merit.
I've always had a certain affection for the Marines. I've worked with several over the years, and I always appreciate their "can do" attitude and directness. You always know where you stand with a Marine. Maybe that's why, when I was looking for a general-purpose outdoor backpack years ago, I purchased the Individual Load-Bearing Equipment (ILBE) formerly used by the USMC. While I looked closely at the popular All-purpose Lightweight Individual Carrying Equipment (ALICE) backpacks used for decades by the United States Armed Forces — and one of the few large military bags recommended in our roundup — most were well-used and overpriced. For $200, I received a brand-new ILBE from eBay that included the spacious Main Pack, the Assault Pack, radio pouch, and hydration bladder.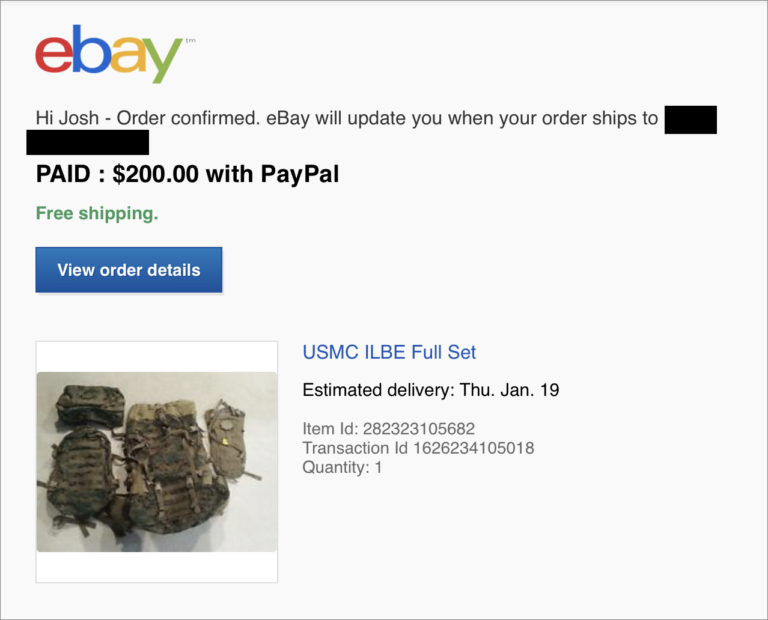 If you're on lockdown from COVID-19, eBay is probably your best bet. Some online military surplus outlets carry them, but they tend to be more expensive and very hit or miss in terms of availability. Amazon is also an option, but every ILBE I've seen on there is way overpriced.
I've owned this system for three years now, mostly to store outdoor odds and ends, with occasional field use. But I've recently rededicated it to my go-bag.
Is the ILBE fit for your prepping needs? Here's what you need to know:
The ILBE is extremely modular. You can use either the Main Pack or Assault Pack by themselves, and equip either one with the lid. You can clip and carry all three together.
The ILBE Main Pack can hold up to 75 liters of stuff with a maximum load of 120 pounds(!). It's even larger when combined with the other pieces. It is what you might call an "absolute unit."
PALS webbing is all over. You can attach pretty much anything you want to the ILBE.
I hope you like straps. The ILBE is absolutely covered in them. That's good in a way, because it contributes to the modularity, and you probably won't have to carry pack straps in the field. The downside is they hang all over the place and can be a bear to manage.
The ILBE is the opposite of waterproof. There are holes and openings everywhere for water to come in and drain out. It was originally issued with a set of dry bags, and I highly recommend that you use some sort of dry bag with this system.
The bag is extremely durable. The 725 Denier Cordura still looks brand new even after hiking through brambles and being tossed around. Every piece of the ILBE feels like quality.
The downside of that durability is that the ILBE is much heavier than most backpacking bags. As one commenter said, the hip belts are heavier than many backpacks.
I personally found the ILBE comfortable, even with a full Level 3 load (from the bug out bag items list). It has the thickest padding I've ever seen in a backpack, especially on the straps and hip belt.
The bottom line: The ILBE is a sturdy, modular pack, but is heavy, cumbersome, and overly complicated. Most preppers should skip it for one of the other packs in our review. But if you can find one on the cheap, or you have specific needs that play to this bag's strengths, then it may be for you.
What is the ILBE, exactly?
When I refer to the ILBE, I'm referring to an entire system of multiple bags that span two generations, with variants for different tasks. The first generation of ILBE features black zippers and padding, while generation 2 has tan zippers and padding. The one I used for this review is the tan version, or Gen 2.
There are also two variants of the system: one for regular Marines and a somewhat larger version for Recon. I believe I have regular Corpsman-sized bags, as they are much more common.
If you purchase the ILBE and intend to use more than one piece, I recommend buying it as a set, because the two generations are not compatible with each other.
My Gen 2 ILBE system features the following:
The 75-liter Main Pack, which is designed to hold the five-piece Modular Sleep System used by the United States military.
The 27-liter Assault Pack, intended to haul three days worth of ammo and water for one Marine. It is designed to contain the ILBE hydration bladder.
A radio pouch, which clips into the top of the Main Pack's compartment.
The lid, which can attach to the top of the Main Pack or Assault Pack, and is a generously sized storage bag in its own right, complete with PALS webbing.
The hydration bladder, which I have never used. It feels well made and has its own backpack straps, as well as clips to attach it to either the Main Pack or Assault Pack. We don't recommend hydration bladders so I won't be reviewing it here, but it's such an integral part of the system that I will mention it when discussing the Assault Pack.
This is what I will be reviewing, but your own ILBE may differ somewhat.
History
The ILBE was designed by Arc'teryx under its Law Enforcement and Armed Forces program and later manufactured by Propper. In fact, if you look inside the ILBE Main Pack, you can see a tag sewn in that says it was made exclusively for the USMC by Propper International. (I'm not aware of any knock-offs on the market, but that's one way to tell if it's genuine.)
Unlike the ALICE, which was used from 1973 up until 2001—nearly 30 years! (and some in the military still use it today)—the ILBE was only used from 2004 until 2012. Why such a short lifespan?
The ILBE was widely disliked by Marines. A 2010 article from the Marine Corps Times said:
Plans to improve or replace the ILBE pack were put in motion after the Corps surveyed 770 battle-tested Marines and corpsmen last year, seeking their opinions on durability, usage, fit and integration, among other things. Marines overwhelmingly panned the ILBE, officials said…
The main issue was an incompatibility between the ILBE and body armor. Also from the aforementioned Marine Corps Times article:
The Corps has sought to replace the ILBE for more than a year after grunts graded it "completely unacceptable" in a recent survey. They said it doesn't fit well on top of body armor and causes chaffing and pain in the back, knees and shoulders.
But that wasn't the only issue. I discussed the ILBE with The Prepared's managing editor Tom Rader, a Navy Corpsman that deployed with Marine Recon. He pulled no punches: "It is a miserable, godawful bag."
"Everyone that could, shelved it and went back to ALICE rucks," Rader said of his time with an ILBE in the Navy. "It was really heavy and the balance was garbage compared to the Civvy Arc'teryx pack it was based on," Rader said.
Rader especially highlighted the weight of the system. "I don't know of anyone in the military that physically carried one. They would go on long missions but would be thrown in the back of the Humvee or 7-ton," Rader said.
However, not every Marine hated the ILBE. Former Marine Sargeant Nick Benas, author of The Warrior's Book of Virtues, and veteran of two tours in Iraq, told me that he's a fan.
"The ILBE is great for carrying all of your personal effects/clothing/MREs and sleeping gear in the field," Benas said. "The straps that come across the chest near your clavicle and around your waist are great for reducing load on your traps and back. Great feature. Being a smaller guy I could carry the same load or more, and size didn't matter," he added.
"Not too many dislikes — the only drawbacks are sometimes the plastic buckles would crack and your strap would be out of commission. The plastic frames tend to hold up with a lot of strain and abuse. Nylon straps have a long shelf life and hold up well," Benas said.
So, there are definitely some fans of the ILBE, even if many Marines hated it. However, chances are that you won't be bugging out in body armor and carrying mortar rounds (Yes, the ILBE was designed for that.) Could the Marines' trash be your treasure?
Aesthetics
We usually try not to judge books by their covers, but when it comes to potential go-bags, we must. In our guide to backpacks, we write:
You want your bag to blend in regardless of type, so avoid camo, bright colors, too much MOLLE/PALS webbing, etc. and consider the norms around you.
This is a pack designed for the Marines, so it's covered in their signature MARPAT (short for Marine Pattern) digital camouflage. And if you were hoping to avoid PALs webbing, forget it, every surface of the IBLE that can be covered with webbing is covered in it.
However, I live in the rural American South, where camouflage isn't just for deer hunting, it's a fashion. It's not the least bit unusual to see people shopping in Walmart in full head-to-toe Realtree, and frankly, I think a fancy REI bag would stick out a lot more than some military surplus. Of course, your mileage will vary. I probably wouldn't want to walk around the streets of Chicago with the ILBE.
More: The realities of country life
Even among camo enthusiasts, MARPAT is controversial. It's not nearly as popular as the Army's MultiCam, probably at least in part because the Marines are reluctant to license their camo pattern to civilians. Yes, companies have to pay to use those camo patterns, which is why MultiCam gear is so much more expensive than other colors. I personally love MARPAT and wish I could get more gear in that pattern, but the much-more-common coyote brown matches it well if you're looking to accessorize.
MARPAT works well in the woods of Middle Tennessee. Maybe a bit too well. I sat my bag down one day, walked a few yards to scout for a campsite, and had trouble finding it when I returned. Thankfully, my IFAK is orange and coyote, so I was able to spot it.
More: What you need in your first-aid kit
The main pack
The 75-liter ILBE Main Pack keeps things simple: There is only one cavernous compartment. There are no side pockets, merely a drawstring opening at the top, along with a couple of side zippers for easier access, though they're partially obscured by sewn-in straps. The zippers themselves are heavy duty and have thick neoprene-covered handles. All you'll find inside the large compartment is a cloth divider and clips for the radio pouch.
The sewn-in cloth divider is annoying. In a pack with so many clips, this is the one place it needs them but doesn't have them. Instead, the divider has flat straps and there are buckles sewn inside the pack for the straps to loop into. If I could quickly clip and unclip the divider, it might be useful, but as it is, it's just an annoyance. (I thought I was missing something, but Rader agreed that the design is awful.)
While the outside of the pack offers no extra pockets, there is enough PALS webbing to attach any sort of MOLLE pouch you want, at least in theory. While experimenting with the placement of my individual first-aid kit, I tried placing it on the sides and found I couldn't move my elbow back because the pouch got in the way.
There is a 5×4 PALS grid on both sides of the Main Pack, with two 6×4 grids on the back (unfortunately, some of the PALS loops are cut short, so it's not quite as much space as you might think). However, it's doubtful if you'll use the upper rear grid much because there is a large flap that straps in place over it, intended to hold the ILBE Assault Pack in place. If you carry the main pack by itself, you could use the flap and various attached straps to hold a sleeping bag, sleeping mat, or tent instead. There are also snap buttons so you can roll up the flap and snap it into place to keep it out of your way.
The sides of the ILBE main pack were intended to hold mortar rounds, and as such there are extremely large pockets on the bottom of both sides, along with a set of three straps. You can hold some pretty crazy things with this pocket and strap combo, like skis, a shotgun, a full-size ax, or a shovel.
The ILBE uses an internal aluminum frame. On the side that goes against your back is thick ribbed padding. The padding is held in place with strong hook-and-loop fasteners, so you can sort of detach it, but not really since it's also sewn into place. It's one of many baffling design decisions on the ILBE.
The shoulder straps are also thickly padded, and they feature quick-release buckles with snaps. Simply pull at the bottom of the buckle to unfasten it. To reattach it, slide the clip in the buckle and snap the button back. There is a thickly padded hip belt along with a chest strap. The padding on the ILBE is exceptionally thick, which is a plus given how heavy the pack is and how much gear the entire setup can hold.
If you like straps, you're in luck. I counted 12, not including the ones that hold the shoulder straps, chest strap, and hip belt in place. There are two straps at the bottom rear of the pack to hold a sleeping roll or other large supplies.
The straps are one of the best and worst things about the ILBE. On one hand, you can configure this bad boy to work pretty much any way you want and hold whatever you want. On the other, unless you carefully cinch them in place they dangle all over. And if you're in a hurry, it can be stressful trying to figure out which buckle should go where.
Perhaps my favorite feature of the ILBE Main pack is the two neoprene-covered web handles, which let you easily pick up the entire thing—especially handy when you need to lift it up to your knee to strap the pack on.
The radio pouch
There isn't much to say about this pouch, other than it's one of the few ways you can add an additional compartment inside the ILBE main pack. It's fastened into place with plastic clips and is completely optional.
I've struggled to try to figure out what I can store in this pouch, or whether I want to include it at all. It was designed for a military radio. Forget putting your BaoFeng inside, as there are large holes on the bottom of the pouch. A small radio will just fall out.
Instead, I use the pouch to hold my Mountain House meals, since it holds them above the inner compartment contents and protects them from being crushed. When I need to dig into the Main Pack, I simply flop the radio pouch out or detach it entirely if it's in my way.
The ILBE assault pack
The IBLE Assault Pack was designed to provision a Marine with water and ammunition for three days, and as such, it was designed to hold the ILBE hydration bladder. That means there are three holes in the top of the pack for the drinking tube. They're partially covered with rubber, but they are holes nonetheless.
The Assault Pack is a bit more generous with compartments. There is an external zippered compartment where I store items I need to access quickly, like toilet paper and hand sanitizer. There is a 5×6 grid of PALS webbing on the outside of that compartment. The sides each have a 4×3 PALS grid.
Inside the pack are three compartments: the main compartment, a stretchy pouch for the hydration bladder, and an incredibly tight zippered compartment that offers access to the internal plastic frame.
Personally, I ditched the hydration bladder and gave up on trying to use the zippered compartment, since it's too tight to hold much, and the big hydration bladder pouch can hold pretty much whatever I need.
As with the Main Pack, the Assault Pack has both a hip belt and chest straps, but the shoulder straps do not have a quick release. I like having the hip belt and chest straps, but they're a dangly annoyance when the Assault Pack is attached to the Main Pack. Speaking of which, there are also plastic clips to attach the Assault Pack to the Main Pack.
One annoyance with the Assault Pack, when used solo, is that it doesn't have exterior pockets to hold a water bottle. This is a very opinionated pack, and its opinion is that you should use a hydration bladder. However, my stainless water bottle fits in the hydration bladder pouch just fine, along with a bunch of other stuff.
The ILBE lid
I find the lid to be the most interesting part of the ILBE. It's spacious and features a roughly 3×11 PALS grip on top. As with the Main Pack, its zipper handles are covered with thick neoprene.
The lid is the size of a large purse, and the trick is that you can carry so much stuff in there that it's too heavy to be a proper lid. I've had to be selective in what I keep in there.
The lid is meant to attach to the Main Pack, but it can also attach to the Assault Pack for maximum versatility. However, it's not very good as a lid. It barely covers the top hole in the ILBE Main Pack. However, the lid is the one part of the ILBE without any holes in it, so if you have items you'd like to stay dry that's a good place to put them.
Reverse engineering the ILBE philosophy
What makes the ILBE unique is the fact that the smaller Assault Pack clips onto the Main Pack, forming a Megazord pack. To take full advantage of that, it makes sense to develop a go-bag system that uses the Assault Pack for Level 1 and 2 items, saving larger Level 3 items for the Main Pack.
For instance, if I'm going hunting, I don't want to carry a gigantic pack, nor do I likely need to be ready for a full-on Boogaloo, but it's possible that I might get lost or hurt in the woods, or encounter nasty weather that forces me to set up an emergency shelter. Also, if I were to just take a trip out of town (as I did in the before times), I could take the Assault Pack as a get-home bag, just in case.
More: What you need in your bug-out bag
Since the lid can be used with either pack and has a generous amount of space itself, it can be a bridge between the Assault Pack and Main Pack.
The Main Pack is absurdly large, and it doesn't have an external frame as the ALICE does. Instead, the ILBE Main Pack features a sturdy aluminum internal frame. This tells me that the intention is for things like tents and sleep systems to actually go inside the Main Pack instead of being strapped to the outside. I think this also helps counterbalance how much the camo sticks out, as I don't look like as much of a drifter walking down the road as I would if I had sleeping pads and a tent hanging off.
The Main Pack also only has one enormous compartment. So it makes sense to only dig into that bag if I'm setting up camp. Once camp is set up and the bag is empty, I can use the large Main Pack to gather firewood and other resources.
Finally, this is a bag designed around things getting wet. I guess with it being designed for the Marines, they figured it was inevitable. As I outlined above, there is a large hole in the top of the Main Pack, barely covered by the lid. Thankfully, there's also some mesh at the bottom of the pack, so if it does get water inside it drains quickly. Likewise, there are several openings in the Assault Pack designed to route the hydration bladder tubing.
For this reason, the Main Pack was issued with a 56-liter SealLine dry bag. So my advice is, whatever you put in the ILBE either needs to be water-resistant or put in a dry bag.
My ILBE loadout
I've spent a lot of time optimizing my ILBE loadout, and this is what I've come up with:
Main Pack: Tent, sleeping pad, sleeping bag, cook set, Mountain House meals, etc. The sort of stuff to set up a proper camp.
Assault Pack: Tarp, poncho, emergency bivvy, water bottle, water filters, emergency food, knife, toilet paper, hand sanitizer, etc. It's the pack I always take in the woods. If I got into trouble, I could sustain myself for three days or longer with its contents.
Lid: Crossover items like my respirator and goggles (in a dry bag), a folding saw, and plastic playing cards. I also tend to throw my BaoFeng kit in there when I'm not using it.
Here is the full contents of the kit. Check back often, because I'll update it as I add, replace, and move things around.
There are a lot of points where theory and practice collide. For example, I would much rather keep my SOS Handbook in the Assault Pack, but it's just too large and heavy. I tried putting it in the lid, but again, it made the lid unwieldy, so it has to live in the Main Pack.
I not only have to be careful of how I pack each individual component but in how the entire thing balances out when it snaps together like a Megazord. I tried strapping my IFAK on the back of the Assault Pack, which was strapped to the back of the Main Pack. The IFAK was just enough to throw the entire thing out of balance, and with every step, I felt like I was about to fall backward. I instead strapped it to the top of the lid and that seems to work.
One of the most problematic items in my ILBE is the SOS Emergency rations I keep in the Assault Pack. It's basically a large, heavy brick, so I put it flat in the very bottom of the Assault Pack, but I worry that the weight just isn't worth it. Likewise, I sometimes carry a camp hatchet in the side pocket of the Main Pack, but it adds a lot of weight, and I could probably live without it.
When it's all clipped together and strapped on my back, I like to call it the Megazord, but in reality, I look like a turtle. This configuration works, but the balance kind of sucks. The entire thing is a bear to get on my back, and once it is, I feel like I'm carrying a house (because I kind of am).
However, I took my full Megazord ILBE for a hike, going up a large hill, through bramble-infested woods, and down the road a bit. The longer I wore the pack, the more I adjusted to it, and after a while, it really wasn't that uncomfortable. I walked just a hair under a mile, and I wasn't worn out at all, even though I'm not in anything close to Marine Corps shape. I have a bad back, a bad knee, and a physique molded by years of sitting at computers.
After I loaded more gear into the packs, I decided to take another hike, again up the hill, back down, and then down the road. I walked over a mile, and while I was miserable in the southern summer sun, I wasn't terribly uncomfortable, though I did take some short breaks to listen in on local repeaters with my BaoFeng while I was on top of the hill, and to make adjustments to my gear.
In my current configuration, with my IFAK attached to the top (I do not include the IFAK in the kit), I weigh the ILBE in at about 46 pounds (I weighed by doing a before and after on a bathroom scale). The only large item I'm waiting to add to it is a solar panel, which only weighs about a pound. Given that I'm running an entire Level 3 kit in a military-grade bag, I think that's pretty reasonable.
Tips for hauling the ILBE
I'll offer some advice for carrying the ILBE comfortably, without hurting yourself. Most of this probably applies to any large backpack:
When putting the full kit on, grab it by the handles, bend a knee, set the pack on your knee, and then use your knee to support the pack as you slip your first arm into the strap.
Make sure the hip belt goes over your hip bones, and the belt rests just under your navel. Tighten the hip belt as tight as you can comfortably get it. (I wish I could tighten it more.)
Tighten up the shoulder straps as much as you can without causing the pack to dig into your shoulders.
Move the sliders for the chest strap so it actually goes over your sternum. It tends to ride up, up near my throat, which is potentially dangerous.
Be sure to tighten the load lifters, which are straps just above each shoulder strap. Make sure you're pulling the right strap—I accidentally loosened my lid strap instead once.
Is the ILBE worth it?
For most people, there are better packs that don't scream tacticool, don't have 10,000 straps hanging all over, and are much lighter. However, there are a couple of cases in which I would recommend it:
You find a set either free or very cheap.
You really want a highly modular go-bag. I don't know of another option on the market like the ILBE.
I think how desirable this pack is depends on the price. I've seen them for anywhere from free to $800. I personally would not pay more than $300 for a complete set, new.
In case you can't tell, I have something of a love/hate relationship with this pack.
Pros:
Extremely modular
Extremely durable
Thick, comfortable padding
Spacious
Cons:
Heavy
Complex
The opposite of watertight
Becomes an amorphous, clunky blob when all parts are combined
All that said, I don't regret buying the ILBE. It's a spacious, bombproof pack, and I paid a very fair price for it. But if I were in the market for a new go-bag, I'd probably go with something simpler and lighter. However, I don't see myself trading it in anytime soon.