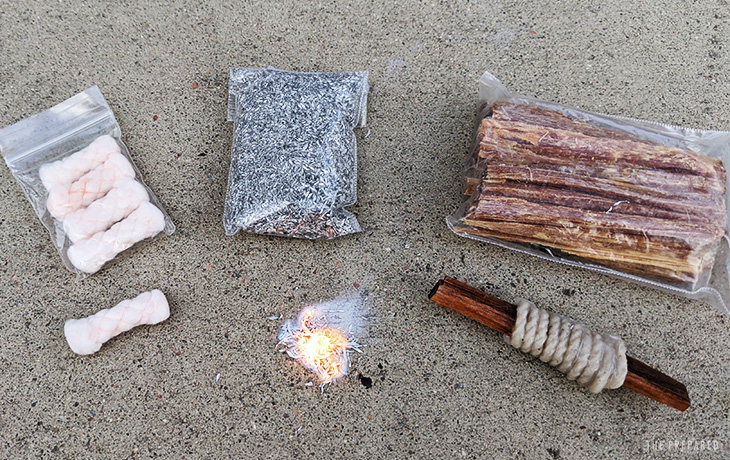 Version 1.0 (June 18, 2020)
Log in or register
to join the conversation
Not a member? Join for free.
Already a member? Log in.
Comments (6)

tommyd46

- June 21, 2020

Great article.  Also try cotton makeup remover circles.  I put petroleum jelly on one side.  Open it up and the sparks from a ferro rod will light the interior cotton and will ignite the petroleum jelly for a longer burn.

Thomas Gomez

Staff

- June 22, 2020

Thank you for the kind words and the tip! Hope this finds you well.

hikermor

- January 21, 2021

Indeed an excellent review!  One of my favorite fire starters and accelerants is hand sanitizer (usually 60 % alcohol), a nice dual purpose product.  An excellent natural tinder is utah juniper, a very shaggy bark.  Just pluck some strands, hold them to a match, and then stand back!

I also cut paratinder into short strands and use them for zipper pulls and the like.  That way I can just extract the red fiery strand and leave the rest of the cordage intact

Jay Valencia

Contributor

- December 20, 2021

I love the Zippo brand and saw that they had a specialty fire starting multi-tool for sale. https://www.zippo.com/products/zippo-fire-starting-multi-tool

It has like a cheese grater for making very fine wood shavings, flint wheel, saw blade, knife blade, screwdriver bottle opener, and has 15 inches of their SureFire paracord which will make 15 different 30 second fires. Not bad and something I'd like to try for $20

On another note, I have been doing some DIY tinder testing and here's my results.

Ostrich eggs

- March 16, 2022

Very great article. In the article you mention a fat rope and how it has a 5 year shelf life and needs to be stored in certain ways. A product that I enjoyed and that I feel is superior is Black Beard's fire starter rope. It's a handmade product in the USA from USA materials, windproof, waterproof, infinite shelf life, non toxic, odorless, and burns for 4 hours per rope.

Here's a video trying to light the rope that was soaked under the kitchen faucet. It wouldn't light with Black Beard's electric lighter, but using a Zippo flame it caught and  burned really well.

In the following video I caught a pile of dry tinder on fire with the electric lighter. Even though this product is waterproof and it does produce a great flame while wet, this video shows that the dry tinder produces a flame twice the height of it's wet counterpart. 

All-in-all, the Black Beard fire starter rope is a great product that I will continue to buy. Just a little bit goes a long way and a single rope will last you many fires. I would argue that this fire starter rope is superior to any of the other options listed in the article due to how big the flame is, it's durability, ease to catch a spark, and being totally waterproof.

Gideon Parker

Staff

- March 17, 2022

Thank you for taking the time to write up and film your experience with the Black Beard tinder rope. It does look like a great item for starting fires.